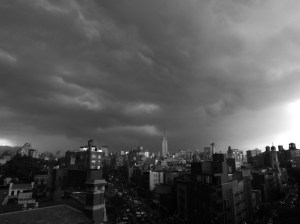 There have been so many high-profile sales in Manhattan in the first quarter of the year, at the same time unemployment falls and apartments are—goodness!—disappearing. How is it, then, that housing prices here are still not rising?
"The first quarter of the Manhattan housing market showed a modest uptick in sales but declines in all the price indicators," Jonathan Miller wrote in his closely watched report for Prudential Douglas Elliman (DOUG). "However, the declines were generally attributable to the expiration of the tax credit last spring and the significant shift in the sales mix toward co-ops over condos ."
In other words, blame (or credit) the Obama administration. We've been here before.
Mr. Miller's numbers, which show the median apartment price down almost 10 percent from last year and 7.4 percent from the quarter before, underscore the idea that there are fewer homes to buy, as inventory shrunk 5.3 percent, to 7,605 units from 8,027 a year ago.
This could help drive prices up as the year continues, but Mr. Miller has also been expressing concerns about shadow inventory for some time. If the economy improves, and people begin to sell homes they have been holding on to, they could flood the market with property at a time the economy is ready to start pushing prices up. The number of days on the market also rose four days, to 127, which speaks to a possible lack of options for perspective buyers.
The median Manhattan home price reached $782,071, down from $868,000 last year and $845,000 in the fourth quarter of 2010, while the price per square foot was off 1.3 percent from last year and 3.2 percent from the fourth quarter, at $1,025 per square foot.
Part of the reason prices fell was a greater number of co-op sales, which rose 28.4 percent from the same time last year—even as prices fell, down 1.3 percent per square foot. At the same time, condo sales fell 24.3 percent from last year as prices rose a considerable 5.4 percent. This trend can be tied in part to the absorbtion of all the new condos built during the boom. As the glut runs out, the prices run up.
The shadow may indeed be lifting, as StreetEasy's report, also out yesterday, saw a 41 percent rise in inventory within its listings, to 383 new listings compared to only 271 additions last quarter. StreetEasy also saw fewer price cuts for condos, down a slight 1 percent, but still another possible sign of confidence in the market and a shortage of supply. Most striking, the site recorded median home prices down just over half a percent while average prices rose 3.5 percent.