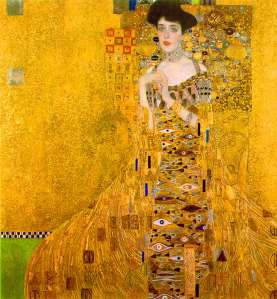 Woody Allen might now be making movies about Paris and London, but the European city New Yorkers may have the most innate affinity for is Vienna. On the way to my shrink, I went to "Vienna 1900: Style and Identity," at the Neue Galerie, curated by Christian Witt-Dörring and Jill Lloyd, and saw the origins of a particularly local set of attitudes and neuroses.
The exhibition's first room reconstructs Sigmund Freud's rug-strewn examining couch; it stands in for the unconscious at the unseen center of the show. Publications in vitrines examine the "woman problem" and the "sex and character" question. Portraits by Egon Schiele and Oskar Kokoschka depict dreamers thin in their suits, and fat poets (Peter Altenberg); Adolf Loos' brass and wood Chairs for Café Campus and Josef Hoffman's elongated Chairs for the Dining Room of the Parkersdorf Sanatorium give these unstable-looking characters two possible destinations for respite. This is a culture obsessed with sex, coffee and madness, in no particular order.
The Viennese were also passionate about their furniture–a man could live or die by the chair he had in front of his office. "Every chair should be practical" and "perfect furniture produces perfect rooms" were two tenets of the designer and architect Loos. In one room, Otto Wagner's cushy Chair in Front of the Director's Office at the Austrian Postal Savings Bank, in upholstered black-stained oak, and zippy Armchair for Newspaper Dispatcher Bureau Die Zeit, in speedy metal, reveal that form doesn't just follow function, it lovingly stalks it, with obsessively bespoke results.
The Neue Galerie–a Museum Mile townhouse–feels more like a home than a white cube. Few institutions are prepared to take $30 million and $40 million paintings (the museum's Portrait of Adele Bloch-Bauer I by Gustave Klimt is famously the most expensive painting ever purchased, at more than $130 million) and use them as props in period rooms replete with furniture and carpets. This curatorial premise derives from an adherence to the Gesamtkunstwerk, or "total work of art," style of this period. Perhaps no other museum is willing to take such expensive material and have so much fun with it.
A room stages decorative Secessionist style (block print wallpaper, an hourglass-patterned rug, bold black and white checked Koloman Moser chairs). Colorful Klimts hang here including the exotic 1916 Dancer. The other side of the same room showcases Loos, the original Strunk and White of design and dress simplicity who wrote Ornament and Crime, that vicious bible of good style. His are handsome brass and oak chairs, monochrome and functional gentleman's club furniture in solid rich materials.
In yet another room, paintings of the countryside show the Viennese vision of retreats on the lakes around Austria. In Klimt's Forest Slope in Unterach on the Attersee and Schiele's Town Among the Greenery, the forest slope and little town are so fashionably mannered with Japonisme and blue cloisonné lines that they are as natural as an upstate Arcadia shot by Terry Richardson.
In the main gallery, next to a constraining whalebone Corset, the flowing Reform Dress represents a breakthrough. In an early Klimt portrait, Serena Pulitzer Lederer, the title subject wears this new uncorseted style, and her figure is dematerialized into a sweeping white column. All the "Vienna 1900" women have this ethereal new shape. The corset becomes a metaphor for academic art like Hans Makart's 1875 Portrait of Hanna Klinkosch, laced-up next to the Secession's supple Modernism.
The Saturn Films company produced erotic films for the Viennese "gentleman's evening." Youth Games, Forbidden Bathing, An Exciting Hunt and A Modern Marriage are among the black-and-white shorts on rotation; the crowd around them suggested that they were as mesmerizing today as they had been popular in their time. Diana in the Bath marries the Austrian passions for hunting and voyeurism into one inspired clip of a huntress stripping and dipping in a forest pond. The content of Klimt's Reclining Female Semi-nude Facing Right and of other graphic odes to women gently masturbating belies their clinical titles.
Saturn's films were banned by 1909, and in 1912 authorities charged Schiele with kidnapping and corrupting a minor, jailed him and burned his drawings. Private fantasy and public morality were at odds. With the Emperor Franz Josef already 70 years old, the official policies were not as radical as the city's art and design culture. If, as Arnold Schoenberg said, "Art belongs to the unconscious mind," then the empire was its policing superego.
Vienna in 1900 was a place where you were defined by what you wore and what chair you bought, where everyone went to the country to pretend to get away yet saw their urban neighbors there. Its apartments were crowded with stuff; it was a place where women were seen as being more autonomous and dangerous than ever before. It was the myopic and stylish center of its own empire. So it's easy for a New Yorker to feel at home in the Neue Galerie this spring.
editorial@observer.com