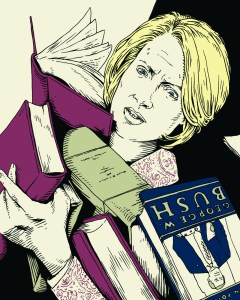 In 1975, Jacqueline Kennedy Onassis, widowed for the second time, was confronting the long and desolate road of leisure that unfurled bleakly before her. She decided to dabble in work. According to a recently published history, Jackie as Editor, by Greg Lawrence, a friend in the publishing business told her she might be able to get a job in books, despite the fact that she was not "really equipped" for the profession.
There was a prospect, the friend said, that privileged the skill set of a well-connected woman of means: to be a consulting editor, the primary task of which was to conceptualize and acquire books, a profession that did not require Onassis, then 46 years old, to do an internship. She started at Viking on a four-day work week at a salary of $200 a week, moved to Doubleday in 1978 and worked in publishing until her death, in 1994, a total of 19 years. She published a list of more than 100 books. Their subjects ranged wildly but they were weighted heavily in the fields of dance (I Remember Balanchine, by Frances Mason), royalty (Secrets of Marie Antoinette, by Olivier Bernier), celebrity memoir (Michael Jackson's Moonwalk), children's stories (Carly Simon's Amy the Dancing Bear), home decorating (John Loring's The New Tiffany Table Settings) or various combinations of the above (Fred Astaire: His Friends Talk, by Sarah Giles).
Last month Random House hired another editor with no prior publishing experience who, at least in some circles, might be called a celebrity. Dana Perino, Fox News commentator and former press secretary for President George W. Bush, will work for the conservative imprint Crown Forum under the title of editorial director. Like Onassis' first job in publishing, Ms. Perino's, as described by Random House in a press release, will be to "recommend, initiate, and submit exclusively to Crown Forum six to eight nonfiction book projects each year." Unlike Onassis, who at least boasted an eclectic roster of talented friends, Ms. Perino will be developing books written by "conservative political or media personalities."
While editors who have toiled in the cubicles of the large publishing houses might have quietly rolled their eyes to each other upon hearing the news, Ms. Perino will not be the first such hire (conservative political strategist Mary Matalin assumed a similar role at Simon & Schuster's conservative imprint Threshold Editions in 2005), nor is she likely to be the last.
In Ms. Perino's hire, Random House has added to the growing ranks of a peculiar new job increasingly popular at New York publishing houses. It's kind of like a consultant, except that it does not necessarily involve offering advice to reshape a brand. It's also rather like the music industry's A&R scouts, except that for someone like Ms. Perino, the task is not to find unknown talent but to rein in people who have already achieved the status of "personality." Affixed with an assortment of titles–for Ms. Perino, it is editorial director, but in other cases it has been editor at large or, in the case of Ms. Matalin, editor in chief–the most accurate way of describing this position might be, when benevolent, a fixer, and when annoyed (as quite a few of publishing's traditionalists seem to be), a wrangler.
"The reason she was attractive for us in that role is that she's just very well connected, particularly in conservative political circles, but also beyond," said David Drake, a publicist for Crown, of Ms. Perino's hire. "She's just very connected and has her ear to the ground in terms of a certain kind of politics."
Ms. Perino arrives at the tail end of a two-year hiring spree by Random House, largely of editors from outside of book publishing, including many from the magazine world. There is the former editor of the defunct cooking magazine Gourmet, Ruth Reichl, hired with the title of editor at large and a mandate to consult on Random's list of cookbooks and digital cooking publications. There's Jon Meacham, former editor of Newsweek, who was brought on as an executive editor, charged with acquiring books of nonfiction and biography. Rounding out the list are Andy Ward, formerly of GQ; Lorraine Glennon, former features editor of Ladies Home Journal; and Diane Salvatore, former editor in chief of Ladies Home Journal.
Distinguishing who among this crowd of relative newcomers is a traditional editor versus fixer/wrangler can be tricky. On the acquisitional end is Ms. Perino, whose time commitment to Random House can be estimated according to her continued external obligations: She will be keeping up her appearances on Fox; her job as president of her own public-relations firm, Dana Perino and Company; her "association" with the public-relations firm Burson-Marsteller; her board position with the government's Broadcasting Board of Governors; and her revolving engagements on the lecture circuit. Ms. Reichl, for her part, does not seem to have a phone number at Random House, and a publicist confirmed she "works from home." (She turned down a request for an interview through her agent.) Others are more involved: Jon Meacham has an office (or what one publishing executive called "a place to hang his ego") and an assistant who answers his phone, but he is also a working journalist (and builder of many bridges: his story "What If There's No Hell?" ran on the cover of last week's Time). Andy Ward, quaintly, seems to be just a plain old editor of books with a full-time job at Random House.
Ms. Salvatore, who went from magazines to Random House imprint Broadway Books and back to magazines in the span of a year (she's now the editor in chief of Prevention), said that bringing in outsiders from publishing is an obvious move as book publishing becomes less and less about, well, books.
"Content now accordions much more, is not static, so that where you once read a book, you now may dip in and out of chapters, you may want it serialized, you may want to see the video instead of read the words," Ms. Salvatore wrote in an email. "So you need people who can think three-dimensionally about content at all times."
Ms. Perino, who served as a communications strategist on George W. Bush's memoir Decision Points, seems to be able to think in three dimensions (Mr. Bush's memoir sold more than three million copies). And notwithstanding her lack of experience, Ms. Perino inspired gracious comments from the heads of other conservative imprints. Adam Bellow, whose title of editorial director at HarperCollins' Broadside Books has different connotations (Mr. Bellow has spent his entire career in publishing, um, editing books), called it a "creative hire." Adrian Zackheim, publisher at Penguin's Sentinel, said, "It's hardly surprising that Random wants to be where the action is."
Mr. Zackheim also noted, however, that his imprint does not have an outside consultant, distinct from the people involved in the editorial process, to reel in writers. "We do all that in-house here," said Mr. Zackheim of Sentinel.
Robert Barnett, the Washington lawyer who negotiates book deals for political heavyweights such as George W. Bush, Bill and Hillary Clinton, Tony Blair and numerous U.S. senators, said that in the context of cutthroat competition for conservative authors, Ms. Perino's hire is obvious.
"She will be in a position to help identify potential writers and help get those writers into their stable," he said. He added that she will also likely help publicize the books and sell them. "In those ways, she'll be very successful."
One former holder of an editor-at-large position at Random House, Kurt Andersen, was happy to discuss the details of how it worked. When asked about his nebulous title at Random House, Mr. Andersen said, "I'm not really sure I still have that nebulous title there anymore," explaining it was a short-lived arrangement when he was between writing novels (also for Random House).
For roughly two years starting in 2007, however, he said he was paid a modest salary "because I know a lot of writers and I have a lot of conversations with writers." Describing himself as "just somebody deputized out in the world," Mr. Andersen helped birth two books at Random House. One was a Vietnam memoir called Guts, by Robert Nylen. The second, Declaring Independence: The Beginning of the End of the Two-Party System by the pollster Douglas Schoen, was about third-party politics.
"It was more like a consulting arrangement than anything else," said Mr. Andersen. "I didn't have an office there; I didn't go to meetings everyday. … My understanding is that Jon Meacham has more of a day job."
And whether the new editors will adopt the manners of Jackie O.–a bouquet of flowers for her authors on publication day, leather-bound editions of one's books and beautifully handwritten notes–remains to be seen.
ewitt@observer.com