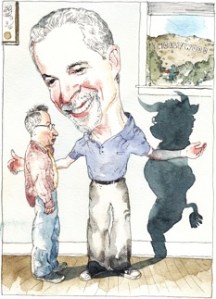 Random House announced today that they've purchased the rights for The Tools, a self-help book by Hollywood therapists Barry Michels and Phil Stutz that was referenced in a recent New Yorker profile that focused on Mr. Michels and his unique methods for pulling script jockeys out of their writerly funks. The book will be published under the Spiegel & Grau imprint in the U.S.
In the profile, the book is likened to The Secret, though differs in its focus on failure, an offshoot of the authors' emphasis on a Jungean "Shadow" figure in their therapy sessions. "We have heard from friends and colleagues who have worked with Michels and Stutz that the results are extraordinary," Julie Grau, the book's editor and publisher of the imprint, said in a press release.
Said the authors:
"After seven years of writing and 60 years of psychotherapeutic experience between the two of us, we are thrilled to have Random House as our publisher and Julie Grau as our editor. We have been particularly impressed with the care and depth with which they've understood and respected both the letter and the spirit of our ideas. We feel that it's the best possible home for our material and we look forward to a long and productive relationship, which could not have happened without the tireless and sure hand of our agent, Jennifer Rudolph Walsh."
Random House also bought the rights to sell the book in Spanish and German.