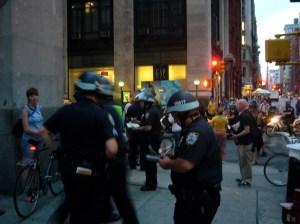 More details are emerging about the ticket-fixing scandal at the NYPD, which now, reportedly, includes exeucutives of the New York Yankees.
DNAinfo's Murray Weiss reports the breakdown of cops involved: seven on Staten Island; 30 in Queens; 30 in Brooklyn, 55 in Manhattan and 380 in the Bronx. The grand jury in the Bronx, which is reviewing evidence on the investigation, is so swamped by the caseload that prosecutors are delegating some cases to the jury's counterparts in other boroughs.
The cops aren't the only ones being investigated, however.
Weiss reports New York Yankees executive Douglas Behar received a court summons, and prosecutors believe that he called in a favor to get an August 2010 speeding ticket dismissed. While prosecutors allege that many cops received bribes such as free food, booze, sports tickets, home renovations and car repairs, it's unclear who or what was involved in Behar's specific case.
Union reps, however, deny that ticket-fixing is a big deal.
Edward Mullins, head of the Sergeants Benevolent Association, has recorded a message defending the practice by calling it "just a courtesy." Mullins says that the charges of widespread corruption and bribery in the NYPD are "ludicrous," and calls on members of the force to tell their ticket-fixing stories so that the public can understand how benign the practice is.