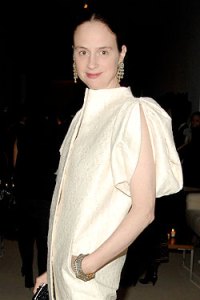 There is, perhaps, no greater email faux pas than The Accidental cc.
Alexandra Kotur learned this the hard way. When the ex–Vogue style director was prepping her departure for Town & Country (to be replaced by Observer contributing writer Chloe Malle) she sent an email to more than 500 close friends to let them know. Normally in such cases, bcc is the proper form. That way, everyone gets the message without their contact information falling into the wrong hands.
Ours, for instance.
Ms. Kotur used cc instead. Her email was promptly forwarded to the Transom, and we opened it to discover a who's who of fashionistas, socialites and political players, with whom we simply cannot wait to start corresponding.
"Typically, I do choose to blind copy my contacts with mass emails," Ms. Kotur told us, over email. "Chalk it up to human error."
Her folly, our fun. We learn, for instance, that while Lauren Bush has a gmail address, her cousin Barbara maintains an antiquated AOL account. Also: Candace Bushnell still goes by "evilminkster"?
Daphne, Hugo, Peggy and Sebastian Guinness all make the cut, as do Bree, Gigi, Avi and Tinsley Mortimer. There's also a court's worth of royals, including Prince Dimitri of Yugoslavia and Prince Pavlos and Princess Marie Chantal of Greece.
A few more choice names from the Kotur Club: Camilla Al-Fayad, Dennis Basso, Manolo Blahnik, Emma Bloomberg, Tory Burch, Francisco Costa, Dree Hemingway, Carolina Herrera, Valerie Jarrett, Luke Janklow, Caroline Kennedy, Michael Kors, Diane Kruger, Robert Gibbs, Stephanie LaCava, Dylan Lauren, Sandra Lee, Baz Lurhmann, Steven Meisel, Margherita Missoni, Wendi Murdoch, Stavros Niarchos, Narciso Rodriguez and Rachel Roy.
Now, they wait for the spam.