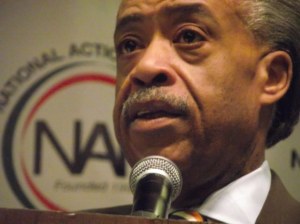 Hip-hop entrepreneur Russell Simmons, dressed in a bow tie, reflected upon President Obama's speech at the 20th-anniversary conference of the Rev. Al Sharpton's National Action Network on the second-floor ballroom of the Sheraton Hotel in midtown, his highest-profile speech since kicking off his 2012 reelection campaign. "[It] was O.K.," he told The Observer. "But listen, I'm a big supporter." Mr. Simmons plans to go on the road for the president, as he did in the midterm elections, and said the administration had addressed his concerns about certain issues. "They were very helpful, the White House, behind the scenes, very supportive of same-sex marriage. They've been supportive of even some of the animal-rights issues." But Mr. Simmons admitted that president's appearance at the NAN conference could be a disadvantage. "He does have to navigate a bit," Mr. Simmons said. "Even being here, he gives his critics more ammunition."
In front of a sign that featured Dr. Martin Luther King Jr. peering at the organization's logo was a wooden podium where, minutes earlier, Mr. Sharpton introduced the biggest guest he had ever welcomed. MSNBC hosts Chris Matthews and Ed Schultz were talking to Bertha Lewis, a housing advocate and founding member of the Working Families Party. A few feet away, former Tennessee congressman Harold Ford Jr. dug into his pockets for a business card to hand out to a man in a suit, before quickly making his way on to the next conversation. Several feet away, Earvin "Magic" Johnson was swarmed by a crowd of photograph seekers, which he patiently obliged. Mr. Simmons seemed to take no notice of the pandemonium, since he was engrossed in his own conversation with two gentlemen. Nearby, in a front-row table, NFL legend-turned-actor Jim Brown sat undisturbed.
For some politicos, the image of the "no-drama" president together with the reverend-whose career, at one point, seemed to have been foreshadowed in the pages of The Bonfire of the Vanities-was unexpected.
The one person who didn't find it unusual was Mr. Sharpton. "I never turn down a front page," he said in a recent interview, referring to the covers of both the New York Post and the New York Daily News, depicting him shaking hands with the president, "but I was like, why is this such a surprise to everybody?"
Throughout the four-day-long affair, Mr. Sharpton laid out an argument for reelecting Mr. Obama, often with top Obama aides looking on-including David Axelrod, one of Mr. Obama's top strategists. Before introducing Mr. Axelrod, Mr. Sharpton had a few words for his audience, with whom he was slightly disappointed. Referring to the "shellacking" Democrats took in the 2010 midterm elections, Mr. Sharpton said, "What happened was you was home. Now, everybody wants the president to come in like Superman to undo what we should have helped protect in the first place." He jokingly suggested they have a "national practice day" for voting, but quickly warned them about the dire need to show up at the polls. "Many black mayors went down because their percentage remained the same but the amount went down," he said. "We got to have turnout." Preemptively, Mr. Sharpton addressed the dissatisfaction among those considered to be Mr. Obama's base: voters who are African-American, living in cities and facing the brunt of the economic recession. To them, the message was clear: Stick with the president, and be patient. Change is coming, eventually.
"The boycott in Montgomery was in '55," Mr. Sharpton reminded the crowd. "They ain't got the Civil Rights Act until '64. Nine years later. Nothing ever happens the next day or the next year."
The introduction Mr. Sharpton gave the president was even more forceful. "He came into office when we had great challenges," said Mr. Sharpton. "And what many people have conveniently forgot is that this president took this nation from where it had never been in most of our lifetimes and put it back on a solid course, and now we forget where it was and where he has brought us. And some of us who are the most pained are being asked to make the most sacrifices and then are being demagogued into blaming him for standing up for all of us, and we are not going to be used like that." The crowd cheered.
Mr. Obama, whom Mr. Sharpton introduced as the "servant in chief," a Biblical reference, was wearing a nearly identical suit to Mr. Sharpton's (black jacket, black pants, white shirt, black-and-white tie) and borrowed some of the talking points that had just been delivered. "And as Reverend Al said, some folks have amnesia about this," said Mr. Obama, referring to the economic crisis handed to him by the outgoing Republican administration.
After Mr. Obama concluded his remarks, Mr. Sharpton waded into the audience. When asked if he'll start to play a larger role in advocating for Mr. Obama, Mr. Sharpton wrinkled his nose and shook his head. "No, not at all," he said. "I have no intention in taking on a wider role in his campaign at all."
But not everyone sees it that way. "There's no question about the fact that Reverend Sharpton will campaign loud and clear for Obama, in the community and all over the country," said attorney Sanford Rubenstein, a mainstay at Mr. Sharpton's rallies. "Sharpton says a lot of times that people have got to take their path. And there's a path for Sharpton to take in this campaign, and that's the path to energize the base." The next day, as Mr. Obama and Mr. Sharpton graced the cover of the city's major tabloids, those within Mr. Sharpton's organization were basking in their newfound glory.
The significance of the moment was reinforced in subsequent talks. "The National Action Network is operating at a new brand after our celebration last night with the president," said the chairman of the group's board, Dr. W. Franklin Richardson, speaking before a panel on organized labor. "Not only with the president. All day yesterday we had four of the cabinet members, including the attorney general, the secretary of education, the secretary of HUD, the political adviser to the president. Today we have two members of the cabinet, secretary of labor and secretary of health and human services."
The power in the room had Dr. Richardson feeling heady about Mr. Sharpton's new standing. "Our president, Al Sharpton, is the leading voice in America for African-Americans," he said. "Undisputed. That can not be disputed. That's not debated."
Norman Seabrook, the president of the Correction Officers' Benevolent Association, said the president's appearance at the organization sent a clear message about Mr. Sharpton's role on the national stage.
"[Mr. Obama] showed you the vehicle last night," said Mr. Seabrook. "Al Sharpton was your vehicle. So you give your grievance to Al and say, 'Al, go on to 1600 Pennsylvania Avenue and take our agenda forward.'" Mr. Seabrook implored the attendees to "use the vehicles that you have that make it work for you. You use the vehicles that you have."
But Mr. Sharpton was somewhat coy about being that vehicle. "There's some people who want a permanent place as the ones having access. It had nothing to do with the community," he said.
On Friday, Mr. Sharpton was accompanied by two men in dark suits, part of his security detail, who walked on either side of him during his stroll down the hallway. They hovered around him during our brief interview. He had just finished his daily radio show and was juggling the demands of the last few panel discussions, as well as those of being a celebrity, posing for photographs with well-wishers.
"In many ways, part of the reason why I could identify with [the president] even though we are so much unalike, or dissimilar," said Mr. Sharpton, "is the crowd that was attacking him for not being black enough was attacking me for being too black. Because it was about them, it was never about our people."
Those unnamed critics that stymied his own presidential ambitions in 2004 weren't the only ones Mr. Sharpton felt stood in his way.
"I think that they always, some in the media, always perceived me more as someone who would not engage in the process more than I ever was. And they forget that I ran for office. I ran for Senate in '92, I ran for mayor. So why wouldn't I be involved in the electoral process?" He added, "Why don't they just admit, maybe we didn't understand what he was saying in the first place?"
apaybarah@observer.com