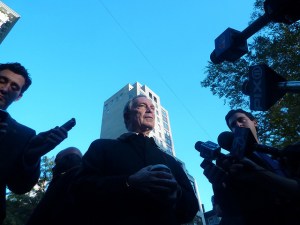 Good details, and questions, about Michael Bloomberg's newest campaign committee, from David Seifman:
"While not obligated to file, we chose to do so in order to disclose the expenditures," said Deputy Mayor Howard Wolfson. The filing won't be made public until July 15.

Why Bloomberg is willing to disclose the information in three months, and not now, isn't clear. In a campaign, there might be a strategic advantage to not revealing any information an opponent might put to use.

But the mayor has no campaign to worry about. He has said repeatedly that he is not running again.

The new committee's mailing address is the Peekskill home of Kathleen McInerney, an employee of Bloomberg's longtime accountant, Martin Geller. Bloomberg's previous committees have all been registered out of Geller's Midtown offices.

"Everything about this is weird," said one veteran political consultant.

[skip]

The recent ads focusing on Bloomberg's "independence" were launched March 21, partly to counter a blitz of negative commercials by the teachers union and the AFL-CIO and partly to boost Bloomberg's dismal 40 percent approval number in the polls.
One benefit to a July 15 disclosure date is that it falls just after the deadline for when the city finalizes their budget. (The city's fiscal year is June 30 to July 1. Last year's budget deal was struck on June 24.) So, advocates who are objecting to the mayor's budget won't have campaign spending figures to use in their arguments.