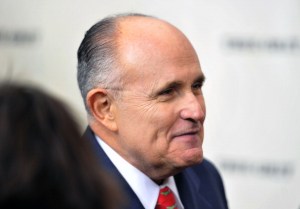 Rudy Giuliani will return to Manchester, New Hampshire next month for a house party at the home of local macher Ovide Lamontagne.
The news was reported this morning by the New Hampshire Union Leader.
Last month, Giuliani spoke to the local G.O.P.'s Lincoln-Reagan Dinner, but aides were careful to characterize that visit as repaying some old debts to friends and supporters.
But the next visit would seem to give a greater indication that Giuliani is still seriously considering the race. The parties hosted by Lamontagne, who lost a Senate bid last year, are expressly designed to host potential presidential candidates. Tim Pawlenty and Rick Santorum have already attended events there; Herman Cain is doing one next week; and Newt Gingrich is booked for later in May.
In his remarks last month, Giuliani promised he had learned a lesson from his disastrous 2008 run, and assured the crowd that–if he were to run again–he would engage in the kind of down-home retail campaigning New Hampshirites have come to expect. Last time around, he effectively pulled out of the state and finished a distant fourth.