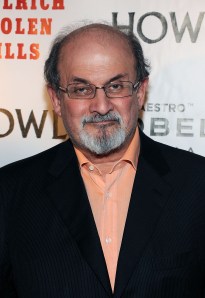 The Standard Hotel reached out to Salman Rushdie ahead of the PEN World Voices festival next week and asked him to select a number of books to be placed on guests' bedside tables. The Guardian has the scoop on his selections:
The Booker prize-winning author has come up with a wide-ranging line-up for guests, from Walt Whitman's 1855 poetry collection Leaves of Grass to Philip Roth's 1969 tale of the sex-obsessed Alexander Portnoy, Portnoy's Complaint.

Other titles picked by Rushdie range from William Faulkner's The Sound and the Fury to F Scott Fitzgerald's The Great Gatsby, while a more modern perspective is provided by Toni Morrison's Beloved, Saul Bellow's Humboldt's Gift, Thomas Pynchon's V, Michael Chabon's The Amazing Adventures of Kavalier and Clay and Joseph Heller's Catch-22.
Welcome to America! Stay off Long Island, don't join the army and try not to masturbate too much.