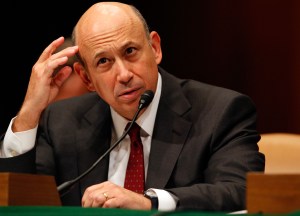 Lloyd Blankfein, CEO of Goldman Sachs, once claimed he was performing "God's work." Yet, after Goldman tripled Mr. Blankfein's base salary last year–even as profits fell–some of "His" more dedicated employees were inclined to disagree. In Jersey City on May 6, at the 2011 annual meeting of Goldman Sachs shareholders, investors will vote on a proposal put forth by the Sisters of Saint Joseph of Boston, the Sisters of Saint Notre Dame de Namur, the Sisters of Saint Francis of Philadelphia and the Benedictine Sisters of Mt. Angel requesting that Goldman review its compensation policies.
"Whenever we're shareholders in a company," Sister Nora Nash told the Transom, "we believe in being active shareholders."
She then administered a further rap on the knuckles: "Because of the uncertainty of the global economy, we believe it would be wise for top executives to be more discretionary."
The proposal was brought forth not only by the nuns but also by the Nathan Cummings Foundation, an organization informed by Jewish values. Lance Lindblom, the group's CEO, said the interfaith action indicated that executive compensation was a "moral and ethical issue."
Which is not to say the investors aren't motivated by financial considerations as well.
"While they're earning all these high bonuses, we're down 17.5 percent," Mr. Lindblom noted.
Initially, Goldman Sachs tried to remove the proposal from the agenda, but the S.E.C. intervened. The board of Goldman Sachs, for its part, has recommended a unanimous vote against the proposal.
ewitt@observer.com