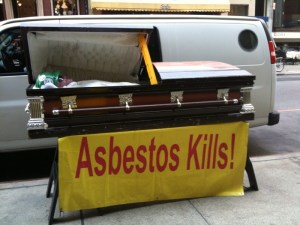 On Monday afternoon, across the street from Serafina on East 61st Street, a coffin sat on a black metal platform-the latest attention-grabbing prop adopted by union members now that Scabbie the inflatable rat has become more a beloved urban mascot than a shocking symbol of corporate malfeasance.
The mostly plastic casket was black with faux wood paneling, gaudy silver plastic trim and a yellow banner that read "Asbestos Kills!" Nearby, in a white van, Angel Rivera, organizer for Local 78, the Union of Asbestos, Lead and Hazardous Waste Laborers, was sitting shiva.
The purpose of the display, he said, was to send a message to David Koch-whose conglomerate Koch Industries is headquartered at 667 Madison Avenue-that "the environment and people's lives are more important than his bottom line." At issue was the hiring by Koch Industries subsidiary Georgia-Pacific of a contractor, Royal Environmental, that, according to a union-produced flyer, refuses to provide workers with decent wages, health care or basic asbestos protection.
The figure in the coffin had open sores and deep wrinkles-a ghoulish look offset somewhat by the addition of a hard hat, wrap-around sunglasses and a shimmery blue and purple scarf. Mr. Rivera said the deceased (one of four, positioned outside various Koch offices) has yet to be given a nickname.