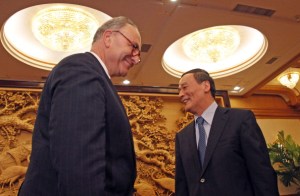 After a press conference on E-Z Pass fees this afternoon, Senator Chuck Schumer talked a little bit about his recent trip to China, where he met with some of the top American business leaders in the region to talk trade policy.
"We talked about currency, we met with the American Chamber of Commerce," said the senator, offering one example. "They're afraid to speak out publicly, but when they met with us privately, every one of them had a complaint."
Schumer has been an outspoken critic of several Chinese policies, which he believes gives the country an unfair advantage in the international market. During his trip, which included nine of his fellow senators, Schumer criticized China's financial leaders for refusing to accelerate the appreciation of the yuan. The senator also said today that the country's current economic arrangement with the United States is unfair.
"Major, major [U.S.] companies are not allowed to sell goods in China. We allow China to sell goods here," he said. "They do not reciprocate."
Schumer said that he plans to take steps to deal with the situation through legislative action, following similar recent comments by Harry Reid.
"I have a whole bunch of legislation that I will be announcing on currency and other issues to deal with the fact that China doesn't treat us fairly," he said.