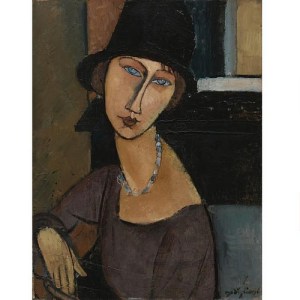 It was a good fight, as intellectual sparring goes. Dancer and choreographer Bill T. Jones, over a breakfast of fresh fruit and frittatas at the Four Seasons Hotel, was arguing with Santino Fontana, who's currently starring as Algernon in the Broadway revival of The Importance of Being Earnest. The debate: the use of religious terminology when talking about the arts.
"You use the word 'sacred'," Mr. Jones cried, somewhat horrified, "sacred!"
Across the table, pink-cheeked and delighted at the exchange, was the woman paying for the meal, and, essentially, for everything, Lin Arison, founder of the National Foundation for Advancement in the Arts.
If you've ever wondered, when you read or hear about paintings selling for eight-figure sums, who are the people selling them and whatever happened to the money, here's one answer.
Mrs. Arison, at the big New York auctions in November, was the secret seller of $43 million in Impressionist and modern art at Sotheby's. The smiling, capable-looking 60-something blond parted with Claude Monet's Le Bassin aux Nymphaes for $24.7 million, and Amedeo Modigliani's Jeanne Hebutern (au Chapeau) for $19.1 million. After paying the auction house's roughly $4 million commission, she turned over the remainder to the NFAA and its Young Arts program.
Ms. Arison started the Foundation in 1981 with her husband, the late Ted Arison, founder of Carnival Cruises, (Her son is CEO of the company, which also owns Cunard, today) to identify, encourage and train young artists and performers. Earnings from the art-fueled endowment will go toward new arts-education programs in high schools, where arts have become "an endangered species," she said.
And, thus, the breakfast. Ms. Arison is trying to boost the profile of her organization, the fame and public prestige of the award it grants, and is taking on a more public role to do it. Guest Mr. Jones is a master teacher in the NFAA Young Arts program, and Mr. Santino an alumni, just one of 16,000. Also on hand was graduate Abdi Farah, winner of Bravo TV's Work of Art series, another alum drafted to attest to NFAA's usefulness.
Mr. Fontana rose to that occasion, noting that before attending Young Arts as a high-schooler, he had intended to study music in Washington State. Assured "you are an actor," by a Young Arts teacher, he headed to New York, where he's been in Billy Elliott and co-starred in A View From the Bridge.
The affable Mr. Farah said he went from feeling like an outcast as a high-schooler interested in art to being thanked by high-schoolers for showing that a career in art was a possible choice for them, in part as a result of Young Arts. (In the visual arts discipline, one of nine, John Currin is an alumni of the program, and Olafur Eliasson, Chuck Close and James Rosenquist have been or are master teachers.)
Ms. Arison, sadly, did not want to talk about her painting sales, preferring to keep a low profile as a philanthropist and changing the subject. She also funded and executive produced, she noted, Strangers No More, a documentary short film on Israeli schoolchildren facing deportation. It won the Academy Award earlier this year. As for her Foundation, it has made a big impact on New York, she bragged. Sixteen alumni are employed at the Metropolitan Opera, and six at Lincoln Center in jazz, theater or chamber music; nearly three dozen attend Juilliard.
Meanwhile, ordering tea, Mr. Santino listed the redeeming values of reality television, especially as a tool for actors. Mr. Farah, a veteran of it, snacked on his honeydew and stayed out of the fray. Mr. Jones fretted that we've gone from a celebrity culture to a situation where "the culture is celebrity." They hashed it out until nearly lunch.
"This is wonderful," Mrs. Arison said.
apeers@observer.com