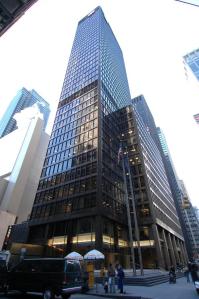 No building has mirrored the economic ups and downs like the aptly named Financial Times building.
Now in a sign that a comeback may indeed be upon us, RXR Realty is about to score their first new deal since taking over 1330 Avenue of the Americas, The Observer has learned. Artisan Partners is in the final stages of signing a lease on the 31st floor, where 10,400 square feet were available. The rent is rumored to be $100 a square foot, while other deals are also said to be near to closing in the building, at rents 30 percent above what the building was fetching just a couple of years ago.
Recall, Harry Macklowe bought the 40-story tower for $498 million in December 2006, and spent $30 million renovating it. That could easily have turned it into one of the most coveted buildings in the Plaza District, but the financial collapse and Mr. Macklowe's troubles drove rents down to a mere $65 a foot.
Heated bidding ensued in 2007, when a unit of the Canadian pension fund put 1330 Sixth up for sale–with bidders including SL Green, the city's largest landlord. They were beat out by darkhorse RXR Realty, which had previously sold off its business to SL Green a few years before, but came back on the Manhattan scene with the bold buy.
Another former Macklowe holding, 510 Madison, is one of the few other buildings in the city said to be fetching rent above $100 a foot. Also joining the club is 350 Park Avenue, where three $100 deals have recently been signed, The Observer has learned.
Since taking over 1330 Sixth Avenue, RXR has managed to create quite a bit of buzz, with concierge service, an upcoming mobile app that helps tenants arrange car service and dry cleaning and a landlord that has offices on-site. RXR Realty's William Elder could not, however, be reached for comment.
lkusisto@observer.com