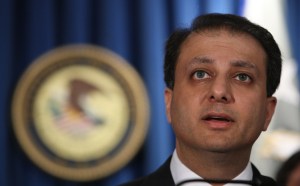 At a pun-filled press conference in lower Manhattan today, the details of the government's insider trading charges against Chip Skowron were set forth by Manhattan U.S. Attorney Preet Bharara, who reassured Wall Street that there's still no end in sight to the government's wide-reaching crackdown.
"I wish I could say that we were just about finished, but sadly we are not," he told reporters, with an air of confidence that indicated he was maybe not that sad at all.
Under investigation since November of last year, Dr. Skowron has finally been charged with benefiting from inside information about the failed clinical trial of Albuferon, a drug with potential to treat hepatitis C. Dr. Skowron allegedly learned of fatalities in the clinical trials before the information became public through an advisor on the trial, a French doctor named Yves Benhamou.
After receiving word from Dr. Benhamou, who pleaded guilty to securities fraud and making false statements to the government on Monday, Dr. Skowron offloaded his stock in Human Genome Sciences, Inc. before it plummeted on the public release of the information. The government claims he saved FrontPoint Partners from $30 million in potential losses. Dr. Skowron, said Mr. Bharara, "did not need to get a second opinion." (It's a joke, see, because they're both doctors?)
As usual, the more cinematic details of the case were highlighted, in particular key meetings between Dr. Skowron and Dr. Benhamou in European capitals, said by FBI Assistant Director-in-Charge Janice K. Fedarcyk to "read like the itinerary of the fictional spy Jason Bourne." From "Manhattan to Milan, Boston to Barcelona," said Mr. Bharara with alliterative flair, the two men met at medical conferences and hotel lobbies.
They were said to have developed a working relationship independent of the expert network that originally introduced them, at a (undoubtedly thrilling) 2006 conference for the European Association for the Study of the Liver in Vienna. In Barcelona and Milan, Dr. Skowron allegedly gave Dr. Benhamou envelopes of euros in exchange for tips — and then to agree upon a story to tell FrontPoint Partners' lawyers when the SEC started sniffing around.
Ms. Fedarcyk called Perfect Hedge, the nickname for the government crackdown on insider trading that has now resulted in more than 40 arrests, "a clinical trial with perfect results and no adverse side affects." SIGH.
Meanwhile, New York can now anticipate another insider trading trial to follow Raj Rajaratnam's: "Dr. Skowron intends to plead not guilty," said his lawyer, Akin Gump's James J. Benjamin, Jr. "We look forward to responding to the allegations more fully in court at the appropriate time."