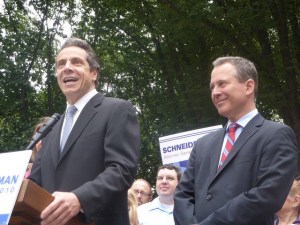 While Andrew Cuomo left open the possibility this afternoon that someone besides the Attorney General might defend last year's law to count prisoners in their home districts against a Republican legal challenge, Assembly Speaker Sheldon Silver and a few civil rights groups are helping make the case for Eric Schneiderman.
"We believe that the legislation that was passed last year is constitutional," said the Speaker's office in a statement. "Additionally, under the law the Attorney General is charged with the responsibility of defending the constitionality of our statutes and we think that is absolutely appropriate in this case."
The civil rights groups made the case for Schneiderman's prior experience with the law.
"There is no person who is more familiar with this issue or better prepared to defend this important civil rights victory than New York's Attorney General, Eric Schneiderman, said a statement co-signed by the NAACP Legal Defense & Education Fund, Community Service Society of New York, and Citizen Action of New York. "We give him our full support in defending this statute to ensure that this year's redistricting process does not once again dilute the votes of communities of color."
As a state senator, Schneiderman helped lead the charge to pass the bill, which counts prisoners in their home communities–a move that carries all sorts of political implications, since it shifts tens of thousands of voters from the upstate rolls where Republicans are strong to downstate and urban communities, where Democrats predominate.
A number of Republicans filed suit last week, challenging the constitutionality of the new way of counting, and the way the law was passed–as part of Governor Paterson's budget-extender showdown last fall.
Paterson's last stand gave Cuomo considerable leverage in this year's negotiations and stripping him of that power would shift some of that power back to the Legislature.
It's not the first time Cuomo and Schneiderman–who became fast friends after Schneiderman won the Democratic primary–have had issues over where to draw the line between Cuomo's old office and his new one.