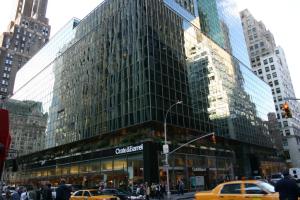 A stake in Ralph Lauren's chichi emerald headquarters is up for grabs.
A 49 percent interest in 650 Madison Avenue, a trophy office tower just steps from the GM Building, is about to be put on the market, multiple industry sources told The Observer. The 500,000-square-foot building is valued at around $950 million, a source said,
Ralph Lauren currently occupies 280,000 square feet, or more than half of the office space in the tower. But the building also has some of the city's most coveted retail space, at the corner of Madison Avenue and 60th Street, just around the corner from Apple's 24-hour glass chapel of high-tech consumerism.
Ashkenazy Acquisitions and the Carlyle Group bought 650 Madison for $680 million in 2008, in one of the biggest sales of that admittedly somber year. In June 2010, China Investment Corporation (CIC) helped refinance the tower, according to Bloomberg. CIC also joined with AREA Real Estate Finance Corp. to buy an unspecified equity stake in the tower. Carlyle owns the rest, and will be the partner that remains after the 49 percent sale, a source said.
The building has about $500 million in debt.
The stake in the property will be one of the more expensive offerings to come on the market since the recent investment sales slump, but the sale of luxury retail property in particular is coming back briskly. A partnership of the Carlyle Group, Crown Acquisitions and the Kushner Companies recently sold the retail condo at 666 Fifth Avenue for $324 million, in one of the largest retail transactions in history. (Jared Kushner, a principal at Kushner Companies, is the publisher of The Commercial Observer.) Just down the street from 650 Madison, Joseph Safra reportedly paid $285 million for Barneys' home at 660 Madison Avenue, a price per square foot of $1,100, according to Bloomberg.
The marketing and interest in the property is expected to heat up within the next six to eight weeks, but for now we'll have to content ourselves with the buzz of anticipation.
Eastdil Secured is handling the marketing of the property.
lkusisto@observer.com