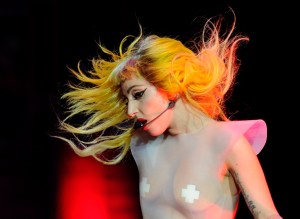 This would never fly at 4 Times Square.
Pop provocateur Lady Gaga arrived for her first meeting as editor of the free subway tabloid Metro wearing a sheer black shirt over exposed breasts. She did have the discretion to sport black pasties-and to hold the meeting in a private dining room of the Beverly Hills Hotel. And to her credit, Editrix Gaga was rolling sans entourage and sans attitude, Metro editor Michael Freidson told the Transom.
It was announced last week that Ms. Gaga will guest-edit the May 17 issue of the international commuter paper. For her debut feature, she will be asking her young "Monsters" around the world about social rights and equality.
"Let's see how fans would define what 'Born This Way' is for them," she told Mr. Freidson. "I say I was born to be brave. That's part of my mission in life."
Ms. Gaga, who has also become an outspoken advocate for LGBT rights, added that the overwhelming reaction to the song was, "'Gay-gay-gay-gay. Are you gay? Is the song gay?' And you're missing what life is offering you because you're hinged on one word. Look into yourself!"
In their first powwow, Mr. Freidson asked Ms. Gaga how much of her teacup-toting persona was for real.
"It's kind of like saying, 'Are you honest? Do you have integrity? You're full of shit, right?'" she replied. She couldn't be more serious, she told him. "I don't party very much. You don't see me falling out of nightclubs and buying Range Rovers. Social justice and music are the two most paramount things in my life, and I can't put it more plainly."
kstoeffel@observer.com