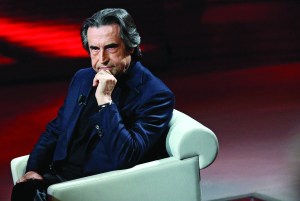 On Friday evening, the conductor Riccardo Muti made his biggest play yet for New York. Mr. Muti is a brilliant, intense musician, and things are always accordingly brilliant and intense when he comes to the city.
He's got some bad blood here. After a courtship in 2000, and then again several times over the next eight years, he turned down the music directorship of the New York Philharmonic, though he remained a frequent–and beloved–guest conductor, one of those guests whose reviews tended to be better than those of the orchestra's own directors. He had said that he didn't want to come to New York because he didn't want a full-time gig, but it turned out he just didn't want that full-time gig: In 2008, he unexpectedly agreed to take over the Chicago Symphony Orchestra, and started there last fall.
So there was palpable tension surrounding his first trip to New York with his new ensemble, for a three-concert stand at Carnegie Hall last weekend. Would he include opera, which has formed the foundation of his reputation? Yes, it turned out–but more than that, the opera would be Verdi's Otello, the sweeping work that James Levine has conducted at the Metropolitan Opera more than any other piece.
In bringing Chicago to New York with Otello, Mr. Muti was making a statement, staking a claim. But any thoughts about the politics and strategy were swept away by the sheer power of Friday's thrilling, discomfiting performance. Despite being an unstaged concert production, it was dazzlingly vibrant; when the tenor and soprano singing Otello and Desdemona stood up in unison (at their music stands, in evening wear) for their final confrontation, it was shiver-inducing. The opera's headlong energy, the way it uncannily re-creates Shakespeare's play's unremitting drive toward destruction, has rarely felt so powerful.
It was the orchestra's show. Mr. Muti is known for a devotion to the letter of the score that some people have criticized as overly fastidious, but there was, as critics invariably note of him, the sense of having the gunk from decades of sloppy Otellos wiped miraculously away. The performance revealed moments and whole lines of music that are usually lost in attempts at Verdi's dense orchestration. Mr. Muti brought a transparency to those massive textures–you seemed to hear every instrument–yet the force and pure volume were stunning.
Simultaneously beefed up and pared down, the performance was relentless. The first act was one long, furious convulsion, exhausting and effective except for its stinting of the relaxation of the closing love duet. Mr. Muti drove the duet's tempo mercilessly, making clear that there is no respite in his vision of the opera. (It's an approach that occasionally veers towards rigidity.) Appropriately, given this conception, the players seemed tireless. The justly famous Chicago brass shone. The strings were both warm and sharp, with tremendous eloquence from the cellos. The orchestra's resident chorus was perfectly focused and clear.
There were moments that were almost too vivid, in which Mr. Muti and the orchestra seemed so intent on being in your face–with a savage violin line, an unexpected flute solo–that individual effects upstaged the drama. But the honesty and naturalness of Mr. Muti's phrasing always returned, bringing with it the proper perspective.
The orchestra was so effective that it seemed at times to crowd out the singers. As Iago, Carlo Guelfi was gruff and a little blustery, without the slow-burning menace of his orchestral accompaniment. His great "Credo" would have been just as terrifying, the first-act drinking song as ominously jovial, if he hadn't been singing at all: You got the whole character from the playing.
Krassimira Stoyanova was a mature, wary Desdemona who grew more convincing as the opera went on. She seemed strangely abstracted in the love duet–Mr. Muti's precision there made it difficult to project warmth and personality–but deeply affecting in her fourth-act "Willow Song" and "Ave Maria."
In a world notably low on great Otellos, the rising tenor Aleksandrs Antonenko shows great promise in the role, trumpeting Act I's public proclamations and bringing a moving simplicity to the final monologue. The only real evidence of his announced indisposition for a stomach illness was some vocal strain in the difficult sequence that ends Act II.
Otello was undoubtedly the event that Mr. Muti wanted it to be, and if the singers were hardly classic, that only kept the spotlight on the podium. There, one of the great conductors of our time was doing work that you could argue with and wonder over, work that made you hope that he and his new orchestra return early and often to strike fear in the hearts of New York musicians who have to live up to their example.
editorial@observer.com