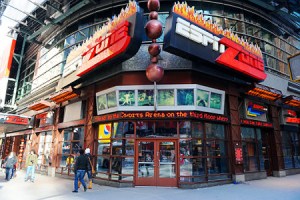 For at least half the population, the mourning over the shuttered ESPN Zone was short and sweet. On, we hope, to better things, as the Durst Organization has put the 45,000-square-foot Times Square mega-space back on the market.
Though ESPN's testorone-fueled hub at the base of 4 Times Square shuttered last spring, Disney has been using the space. It became available in January, and Durst has begun quietly showing it to prospective tenants.
With three full floors and 185 feet of street frontage in the hottest retail neighborhood in the city, the Durst folks seem confident the space will generate some buzz. "If you're an international brand, this is where you want to be," in-house broker John Grotto told The Observer. "It's the crossroads of the world," he added. You've heard that one before–but with a location smackdab at 42nd and Broadway, he might just be right.
If the ESPN signage is anything to go by, the location also offers plenty of ways to make a statement. "It may not be the Conde Nast building just by force of this iconic imagery," said a spokesman.
Mr. Grotto said they are looking for one tenant to take the entire 45,000-square-foot space, though they're also open to logical divisions. He wouldn't disclose the asking rent, but both asking and taking rents on similar spaces in the area have soared to about $1,000 a square foot. It sounds like clothing, not greasy grub, is on the menu for Durst. That leaves us speculating (wildly, since Mr. Grotto couldn't comment) on potential tenants: H&M, Zara and Uniqlo all have successful (or soon to be successful) Fifth Avenue locations, but nothing so far in the neon scissor.
Durst plans to launch the space at a bash at the Aureole in Las Vegas during the world's biggest retail trade show, hosted by ICSC in May. They did the same thing the last time the site was available, in 1998.
lkusisto@observer.com