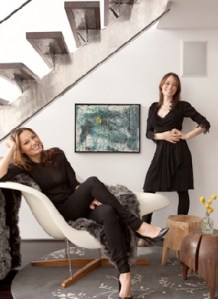 Modern Declaration's Daun Curry turns up the volume at a duplex Chelsea loft owned by DJ and model Sky Nellor.
SLIDESHOW: Sky Nellor's Chelsea loft
Who knows you better than your hairdresser? When Ricardo Rojas, Sky Nellor's hairdresser, said he knew the perfect designer for the model-slash-DJ's apartment, she took his recommendation to heart, bring­ing Daun Curry on board to transform her Chelsea duplex. "My apartment looked like a very nice empty hotel room," Nellor said. "I'd gutted my place, picked out all the basics, but I didn't know how to make my home a home."
Nellor, who appeared on the cover of Spanish Vogue and in a Guess jeans campaign with Anna Nicole Smith, is fa­miliar with the inside of nice hotel rooms: as a jet-setting DJ who spins at events and clubs from Spain to Shanghai, she might spend only a week per month in New York.
Curry, the founder of design firm Modern Declaration, has seen her share of nice hotel rooms too: her portfolio includes work on the renovation of the Royalton and a five-bed­room apartment at the condo conversion of the Stanhope. Known for her vintage finds, Curry went virtual for her frequent flier client: given Nellor's schedule, the majority of purchases for the apartment came from clicking a link. Curry sourced other trea­sures while her client travelled. "I'd come back from a trip and say, 'Hey, that's new'," said Nellor of Curry's additions (Nellor touched down at home so infrequently that client and designer never ac­tually made it to a showroom together, instead meeting as late as 9:00pm-that's morning for a DJ-and cracking open a bottle of wine before getting to work). "We just vibed really well when we met. I trusted her. I told her if the credit card stops working then we have a problem."
That card kept working as Curry scored special pieces like 1970's French brass palm tree lamps and a plush Dana Barnes looped rug. "I wanted it to feel warm and inviting without being cozy and delicate," said Nellor of the white, beige and lemongrass palette introduced by Curry. "I needed the pieces"- like chunky Kartell Pop Sofas and Kieran Kinsela wood tables – "to be sturdy. I want to sit there with my girlfriends and have a good time."
Personal elements abound: framed pictures hanging in the bath­room chronicle Nellor's modeling career. Other art and sculpture was sourced by Curry at Flair Home and Venfield; the designer worked within her client's budget to find one-of-a-kind pieces like paper maché wings dipped in 24 karat gold which flank a painting of an angel praying, a gift to Nellor from the artist.
Eco-friendly elements in the apartment, which was renovated with the help of SCIEfly Design, include sustainable woods for the fireplace, floors and kitchen table and natural stone in the bath­rooms. Nellor admits to one or two not-so-green luxuries, like a bathtub that could drown a small elephant (let alone a sample size DJ). "I love baths," she said. "I sat in this in the showroom and said, 'This is mine.'"
Sky mixes tracks from home, and her workstation was a priority. "It's my life," she says. In keeping with the apartment's sleekness, her track tables are wired into the floor and controlled by remote (living next to a DJ who likes to work from home sounds like a uniquely urban nightmare, but the neighbors have only complained once. "When I come back from a job at 2:00 [a.m.] I'm not turning on my music. I'm going to sleep," Nellor said). A wine refrigerator was installed in the kitchen for spontaneous parties: it contains only Champagne and gets more use than the stove. "I think I used my kitchen three times last year. The microwave, dishwasher and fridge are my friends." Sky's next project is building out the roof. "I'm going to throw lots of parties. It will be beautiful."