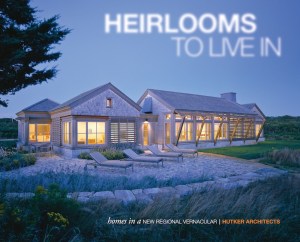 Preface by Mark Hutker, Edited by Leo A. W. Wiegman and Oscar Riera Ojeda, with photography by Brian Vanden Brink and Alison Shaw (Oscar Riera Ojeda Publishers, $75)
For those have ever wondered what goes on behind the design of iconic coastal New England homes, Heirlooms to Live In: Homes in a New Regional Vernacular explains each step. The beautifully illustrated yet understated book chronicles the evolving style of design of architect Mark Hutker over the past 25 years.
Heirlooms to Live In is punctuated by full page photos of home that blend seamlessly with the rugged New England terrain around them, including Edgartown, Chappaquiddick, Aquinnah, Fox Hill, Chilmark and Oyster Watcha – exactly how Mark Hutker intended it, designing homes that blend, not divide, the natural terrain on which they sit.

The environmental factors of the region are not to be ignored, as they play a pivotal role in the design process. It's no secret that coastal New England boasts a harsh climate, which results in the region's very specific style of architecture. But in this literary venture, the firm has managed to design 25 homes that are unique from one another, yet all embrace the Hutker-ordained philosophy: creating long term life and emotional equity.

Living heirlooms: Hutker homes are not just functional; they are designed to last, to become a treasured item that is passed down from one generation to the next. In fact, that is the idea behind the book, and concurrently, Hutker's philosophy. These homes are often fit so well with owners and their corresponding needs that they are rarely sold outside the family. They are heirlooms in a broad sense of the word, as they are passed down from family member to family member, much like a treasured quilt or jewel.

The 528-page book was a two-year process, from initial inception to execution, a coffee table book in every sense of the word. Its substantial size weighs heavy on your lap as you flip through the pages, admiring the natural weather patterns on the homes, the inviting, natural stone outdoor showers, the winter gardens that provide an all year round escape from the elements. These are homes you want to live in, or at the very least, spend a week's vacation in, escaping from the world.