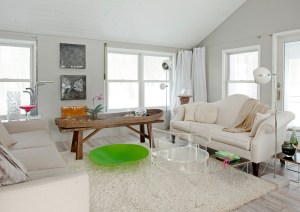 SLIDESHOW: Linda O'Keeffe brings expansive style to her 1920s Sears cataloge kit house in the Catskills.
Linda O'Keeffe is a journalist and author; she was creative director at Metropolitan Home until the magazine's closing, in 2009. Her book Shoes (Workman Publishing), which chronicles the history of women's footwear, is in its 21st American printing. Two new titles from O'Keeffe hit bookstores this fall—Brilliant: White In Design (Monacelli Press) and The 7 Deadly Sins of Decorating (Hachette).
Even though my house is just a short walk from a village in the Catskills, it's tucked away, so it feels relatively bucolic. My Noho apartment sits on the overlap between a university campus (New York University) and a shopping mall (Soho), so by comparison, you might say that I weekend in the boondocks.
The first time I set eyes on my little cottage five years ago, I smiled. Partly from a sense of relief that I'd finally found a getaway place-and partly because it sits below grade, surrounded by an acre of mature trees, and it looked diminutive. It reminded me of the two-dimensional houses with the curlicues of chimney smoke I'd drawn as a child. The cottage turned out to be a 1920s Sears Roebuck and Company catalog kit house with a 1940s kitchen addition. Fortunately, no one between then and now had spent time gussying up its exterior.
Inside, its low ceilings and warren of rooms had a discernible charm. A saner person might have left well enough alone. Instead, when a dear friend, Jim Gauer (an architect who literally wrote the book on small spaces), came to stay, a renovation plan took root. Jim's plan was bril­liant and extreme and at first I hesitated. I guess I was thinking facials, and he was talking reconstructive surgery! I wisely followed his advice, and by the middle of the following summer, after I'd re-clad the exterior in Hardy board, taken out the attic and several interior walls, replaced all the windows and slotted in a few sets of French doors, I moved back in.
Jim's theory, which proved to be true, is that a small house feels larger than it actually is when most of its square footage is assigned to a symmetrical living room. His scheme set up a spatial hierarchy, and now my living room, with its 14-foot ceiling pitch, feels grand. What's also great is that my little cottage lost none of its sweetness and, in the bargain, it's capable of copping attitude from several angles.
At first, I had doubts about the new floors I'd installed. They're bleached, hand-hewn oak, and without furniture they looked busy and distracting. Now I love them, especially because they pushed me to paint my living room a velvety dove gray. Well, actually, my friend Laura Guido Clark, who is an amazing colorist, steered me in that direction. She also suggested a pale khaki for the halls and a palette of greens for the bedrooms. I've never lived with so much color before!
My kitchen is a buttery yellow in deference to the enamel facade of my baby Aga that is officially called a Companion. More than handsome, it's finely calibrated so it delivers chewy oatmeal cook­ies, crisp onion tarts and apple pies that are seriously photogenic. As far as furnishings go, I have no aesthetic allegiance to any one particular period. If I had to, I could even cozy up to a piece of Victoriana-if I were allowed to take it out of its predictable con­text. I'm uneasy in a room that's dressed to the nines in one style. To me, that seems like the interiors equivalent of a fashion victim. I guess I dig opposites-a lucite chair alongside a 1900s wicker basket, a 1950s Baker desk with an African stool. Without getting too deep, I believe every object, from a plastic takeout spoon to a hand-carved netsuke, has its own particular life force. I've felt that way since I began forming words.
My living room has either windows or French doors on three sides, and even though it's peppered with color and earthy tex­tures, it exudes whiteness. Two linen sofas, a pert camelback and a sleek three-seater sit facing each other on a giant white flokati rug. At the height of a winter blizzard, when snow swirls outside, my little house feels like the calm eye of a storm.
I sleep in a 19th-century Chinese bed that has scary gold storks and overflowing cornucopias carved into its fretwork canopy. It's a very far cry from the institutional-looking beds I drew as a child.
SLIDESHOW: Linda O'Keeffe brings expansive style to her 1920s Sears cataloge kit house in the Catskills.