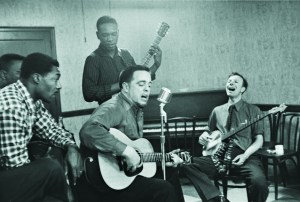 The title of John Szwed's objective, detailed, above all loving biography of Alan Lomax, The Man Who Recorded the World (Viking, 448 pages, $29.95), is hardly an understatement. For a majority of his life, Lomax traveled the world looking for musicians to match the intensity of the prewar recordings of Robert Johnson that so enthralled him as a young man, eventually kickstarting the careers of Son House, Woody Guthrie, Muddy Waters, Jelly Roll Morton, Mississippi Fred McDowell, Lead Belly, as well as introducing world music into American culture.
He recorded it all. He was always away from home, driving around with a portable recorder in the trunk of a busted Citroën or VW bus, from West Africa to Nova Scotia. He was blacklisted and trailed by the F.B.I. for several decades, considered too popular for folklorists and ethno-musicologists, too marginalized for popular culture. Mr Szwed's meticulous and comprehensive book is remarkable for presenting Lomax as a man rather than a legend, an outsider whose day job just happened to be discovering some of the world's most enduring musicians.
The problem the biographer typically faces is an absence of information. But Lomax, who died in 2002 at the age of 87, was a meticulous documenter. Each stage of his life exists in various media. His trip to Haiti in 1936, when he was just 21 years old, with the novelist Zora Neale Hurston–a brilliant song collector in her own right–is documented not just through letters and journals, but also hours of tape and hundreds of feet of film (an excellent 10-disc box set, a mere selection of the songs Lomax recorded while in Haiti, was released last year).
Naturally, myths appear throughout all of this information, as many as those surrounding the musical figures he recorded. A young Southern white man traveling with a prominent black woman in the 1930s was controversy enough, but they were also journeying to the land of voodoo, a religion whose central tenant is the veneration of the dead. Americans, and William Seabrook's book The Magic Island in particular, misinterpreted the belief in the figure of the zombie, believing Haiti to be populated with the walking dead.
Tourists, indeed non-Haitians, were scarce. Still, Mr. Szwed weaves a linear, detached narrative out of all the ephemera. Hurston, who arrived first, was finishing Their Eyes Were Watching God and warned Lomax not to mention voodoo or Seabrook's book in Haiti. She also "asked him to buy her some stockings ('color light, golden tan, size 10')."
Telling a straight story out of such mythology is no easy task, especially since Mr. Szwed's book is populated with some of the great anecdotes of American music. A teenage Lomax trekked to Southern prisons with his father in search of musicians, discovering Lead Belly at the notorious Louisiana State Penitentiary (known colloquially as "Angola"), then hiring him as their driver upon his release from jail, bringing him to folklore conventions to sing "Goodnight Irene" wearing his prison overalls. Years later, Lomax introduced the Paul Butterfield Blues Band at the 1965 Newport Folk Festival by saying, "I wonder how they'll play the blues with all that equipment"; the band's manager, Albert Grossman, responded, "That was a real chickenshit introduction," and the two men proceeded to push one another to the ground in a fistfight.
America was defined by its folklore, but this folklore was endemic only to America. "It was the folk artist's job," Mr. Szwed writes, channeling Lomax, "to stay close to the cultural norms and baselines of their societies. Their place in the communities was one of underscoring and reinforcing the norm, rather than attempting, like the avant-garde artists, to expand, improve, or confront the existing aesthetic." Yet, unlike much of the rabidly conservative folk community, Lomax adapted with American taste. He was an early supporter of rock 'n' roll, and did not protest Bob Dylan playing electric guitar. "Dylan wanted to create a folk music for the urban middle class," Mr. Szwed writes. To Lomax, this "wasn't a bad idea, but just seemed boring to him."
Hubris got the best of him in the end. Mr. Szwed, a professor of music and jazz studies at Columbia and an old friend of Lomax's, adds a personal impress to his book by describing his subject's alienation from academic circles with the radical formulation of cantometrics. This theory posited that there was continuity to the social structure of a given culture's music, that societies were held together by a set of nonverbal behaviors that could not be articulated. "The primary function of music," Lomax concluded, "is to remind the listener that he belongs to one certain part of the human race, comes from a certain region, belongs to a certain generation." He intended to explain, through a set of sociological, physiological and even psychoanalytical principles, why Frank Sinatra expresses heartache differently than Muddy Waters. Of course he failed. It is both tragic and reassuring: It is not possible to hear all the music of the world.
mmiller@observer.com