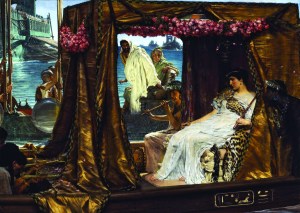 Victorian-era critic John Ruskin called him the "worst painter of the 19th century." Another critic thought a cigar box was an appropriately worthy canvas for his talents. The public couldn't have cared less. For nearly three decades, Alma-Tadema was the preeminent painter in Britain. His lush, epic scenes, borrowed from Roman history or based on his travels to ancient Greco-Roman sites, were roped off to protect them from crowds; commissions made him very wealthy. He was knighted.
But the Ruskin camp of naysayers won out eventually. In the 20th century, the It painter of the Victorian era fell from grace and into obscurity, where he remained for decades. Scholarly texts either omitted him or rendered him, literally, a footnote in art history. The word often used was "kitsch."
His only fans, by in large, were in Hollywood. In 1956, production designers of the film The Ten Commandments turned to his paintings of the ancient era for inspiration and imagery. (The coastline painted in his The Finding of Moses was used in the film.) By 1961, when the $40 million epic Cleopatra was being designed, his works were looked to again, and some of the scenes in the film echo his artwork strongly. His "emphasis on personal drama, his wide angle perspective … set the scene for the epic film industry," suggested mid-century critic Mario Amaya.
Meanwhile, Allen Funt, the creator and host of Candid Camera, fell hard for his vivid, cinematic style, at one point owning about three dozen canvases. The Metropolitan Museum of Art exhibited the collection in 1973, dismissively calling it "Victorian in togas." Funt sold the work to pay off bills after he was swindled by his accountant; however, it fetched virtually nothing.
Consider that Finding of Moses. Some records show it selling for under $10,000 when it was made in 1904, but it couldn't sell at auction in 1960 for half that. At Christie's in New York by May 1995, though, it brought £1.75 million. And last November, after an eight-minute bidding war, it sold for $36 million.
Throughout the art world, jaws dropped. "I can't believe someone spent $35 million on a classic academic painting. I can see paying that for a Picasso," says Cristina Delgado, an art adviser. The secret: Its appeal was universal, as bidders were from Europe, Asia and the Middle East.
Polly Sartori, head of 19th Century European Paintings for Sotheby's, which most recently offered Moses, offers a sales pitch. Alma-Tadema shows a "technical ability, a virtuosity that is unsurpassed. He makes everyone look," she said. "People appreciate the cinematic" sweep.
With the recent death of the Elizabeth Taylor, who famously played Cleopatra to Richard Burton's Mark Antony, and amid rumors that Angelina Jolie now wants to play her, the Egyptian queen is hot right now. This marketing opportunity is not lost on Sotheby's.
On May 5, Alma-Tadema's The Meeting of Cleopatra: 41 BC will be on the block as part of the company's 19th-century European art sale. It is based on a memory Antony has of Cleopatra before things got complicated. The artist drew on Shakespeare's romantic vision of the events. Said Ms. Sartori, "Composed on a slight angle, she stares at you and invites you to look at everything in the painting."
To show the Shakespeare's "perfumed drapery," Alma-Tadema includes a garland of roses and slaves blowing incense. As for her feline cleverness and voraciousness, she is draped in a leopard skin. And, whether she's kitsch or kitten, the queen poses in front of spider webs, placed by the painter to suggest her cunning,
Sotheby's is cunning, too, or at least, timely. It notes that the painting "later served as important inspiration for theatrical and filmed versions of this famous story, including the legendary 1963 movie starring the late Dame Elizabeth Taylor."