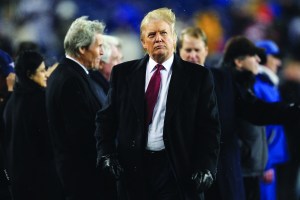 On a recent Monday morning, Dan Isaacs, the newly installed chairman of the Manhattan Republican Party, was on his way to work when he received a surprise call on his cell phone from Donald Trump. The day before, Mr. Isaacs had vented to the New York Post about how the quasi-candidate-who is currently promoting himself as a far-right Republican contender after years as a registered independent and Democrat-had ignored his requests to speak at a fund-raising dinner for the hometown political club.
"He was very gracious and wanted to know who I had spoken to in their office," Mr. Isaacs recounted to The Observer last week. (Mr. Trump is the father-in-law of The New York Observer's owner.) Mr. Isaacs said that he had been in touch a little bit with Michael Cohen, Mr. Trump's aide-de-camp. The message, apparently, had not made it to Mr. Trump. (The Celebrity Apprentice star said he had spoken to Ed Cox, the state G.O.P. chairman; Mr. Isaacs reminded him that there was a difference between the New York State G.O.P. and the New York County G.O.P.)
"He said, 'I am going to do your dinner,"' Mr. Isaacs recalled, and Mr. Trump then referred him to Rhona Graff, a longtime personal assistant who fields all press inquiries for her boss and helped finalize the arrangement for June 14.
Such are the inner workings of Mr. Trump's early, quixotic effort to position himself as a legitimate Republican presidential candidate. The formal requests for interviews and appearances, which have been too numerous to count, are handled by Mr. Trump's confidants in the Trump Organization, a group of political neophytes, led by Mr. Cohen and his draft-Trump Web site. At the same time, a loose network of unpaid political consultants-orbiting around the brass-tacks consultant Roger Stone-tries to organize a political network that could somehow translate his name recognition into a viable candidacy.
Not that Mr. Trump requires much convincing of his own popularity.
"It's a little like a Broadway play," Mr. Trump said of the poll numbers that show him leading an unrecognizable, and uninspiring, Republican field. "It's either a hit or it's not, and this is not so much different. … A Broadway play opens and people say, 'We have a smash.' That's what happened with me." (Shortly after the interview, an aide to Mr. Trump forwarded an April 14 poll from the Public Policy Polling, with Mr. Trump's trademark Sharpie scrawl pointing at an early lead.)
According to those who have been in contact with Mr. Trump, decisions about which interviews to accept, which G.O.P. influencers to reach out to and which Tea Party rallies to attend are Mr. Trump's alone, though they're often filtered-as Mr. Isaacs' was-by Mr. Cohen, who some describe as "the Donald Trump of the Trump Organization." According to people who have been in meetings with him, Mr. Cohen is something of a one-man band, a whirlwind of phone calls and emails to people looking to get in on the Trump bandwagon. "I have something like 867 unopened emails and I can't even get to them," Mr. Cohen told The Observer last week, in denying a request for a sit-down interview and simultaneously fielding calls on another phone.
Mr. Cohen is not entirely new to the political process. Back in 2002, while working for the Trump Organization, Mr. Cohen had wanted to run for an Assembly seat on Manhattan's East Side, but stepped aside when the G.O.P. settled on another candidate. The following year he ran hard for the City Council against a popular incumbent, Eva Moskowitz, including taking out a "milk carton ad" in local papers that accused his opponent of being "missing" for her absence during important votes on the City Council. Ms. Moskowitz had just given birth to a son. She went on to win nearly two to one.
Already, Mr. Cohen has made some head-scratching decisions that perhaps indicate his unfamiliarity with the nuances of a national campaign. In March, he flew to Iowa on Mr. Trump's jet, in clear violation of Federal Election Commission rules. And he told one reporter that he personally believed that President Obama was born in the United States, undercutting a central plank of his boss' early campaign.