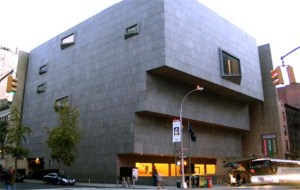 It seems high time that the Whitney and the Metropolitan Museum of Art, well, met.
The Whitney approved a $680 million expansion plan into the meatpacking district last spring, after years cramped in an overhanging Brutalist beast of a building on 75th Street. But there was a catch: Cosmetics heir Leonard Lauder apparently has a soft spot for concrete, and gave the art gallery $131 million only on the condition that it not sell its historic Marcel Breuer-designed home.
Rumors have abounded since last spring that the Met would rent the entire building. After more than a year of negotiations, the two parties are close to a deal, sources say.
Even though the Whitney's move is still a couple of years away, the two parties will need time to orchestrate the move, so there is some pressure to get the deal done early. Sources also said the building may become a museum-size exhibition space dedicated to post-1960s art or may house the Met's contemporary art collection. They note that a collection with a more contemporary edge would suit the building's Modernist design.
No brokers are currently involved in the transaction. Neither parties' press offices returned calls for comment.