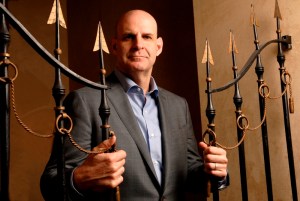 They parked on a lot on Seventy-first and walked to the Dakota. The Dakota remains one of New York's premier buildings, though it's still best known for John Lennon's assassination. A fresh bouquet of roses marked the spot where his body had fallen. Myron always felt a little weird crossing over it, as if he were trampling on a grave or something.
Will Harlan Coben, who wrote this passage in his 1999 thriller One False Move, have the same feeling of unease every time he comes home to his new pied-à-terre? Mr. Coben has written about the storied co-op no fewer than seven times since then in his dozens of best-selling paperbacks; and now he is the proud owner of a compact two-bedroom duplex on the ninth and 10th floors, which he and wife Anne Armstrong-Coben just purchased for $2.4 million, according to city records.
As you no doubt know, the building has been home to numerous artists besides Messrs. Coban and Lennon, as well as a few wealthy–and litigious!–New Yorkers. There is Windsor Horn Lockwood III, a recurring character in Mr. Coben's novels, as well as real-life richies like Jacqueline Bikoff and Margaret Hess-Chi, granddaughter of the oilman and former Jets owner, who bought the place with her husband Michael Chi in 2006 for $2.73 million. Apparently they did not get the artists' discount.
In March, the Post reported that Mr. Coben had passed the board, and two years ago the tab took a trip to his Victorian home in Ridgewood, N.J., where he lives with his four children. Mr. Coben owns another Upper West Side pied-à-terre a few blocks south at 33 West 78th Street, a one-bedroom that he and Ms. Armstrong-Coben bought for $690,000 in 2007 and recently listed for $745,000.
The 1,600-square-foot duplex fronts on the park with a large living room featuring a fireplace and simple mahogany woodwork throughout. Both bedrooms and two full bathrooms are located one floor above. Also, a "separate Staff Room/Office is in the gables with great light," according to Kirk Henkels and Jennifer Callahan's Stribling listing. The perfect place for Mr. Coben to write more books about his favorite New York co-op.
Read past Manhattan Transfers here. >>