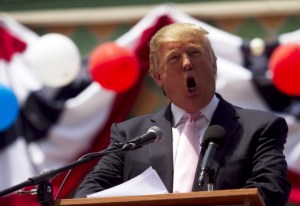 In June of last year, before he began positioning himself as the most rabid Birther candidate for president on the Republican right, developer and casino operator Donald Trump gave $25,000 to the campaign of Kathleen Rice, the Democratic DA of Nassau County, who was the early front-runner to replace Andrew Cuomo as New York state attorney general. It was one of the larger donations that Mr. Trump (whose son-in-law is the owner of The New York Observer) sent to Albany over the past decade, and one of three separate bets he scattered across that race.
Two weeks after Ms. Rice lost the Democratic primary, Mr. Trump bet $5,000 on the Republican candidate for attorney general, Dan Donovan, a social conservative who was being advanced by Mayor Michael Bloomberg. Two weeks after that donation, Mr. Trump hedged the bet and gave $12,500 to Mr. Donovan's opponent, Eric Schneiderman, who had positioned himself as the most-left-leaning candidate in a field of progressive Democrats, running on a platform of staunch support for gun control, organized labor, and a woman's right to choose. (Last week, Mr. Trump said he became pro-life "years ago.")
Mr. Schneiderman turned out to be the jackpot, winning with 55 percent of the vote.
Mr. Trump's habit of making high-roller bets in a given race isn't new, and his New York donations seem to favor gambling on the candidate with the best odds at the expense of any deep-seated political convictions. Since 1999, Mr. Trump has given nearly $400,000 to New York Democrats and a little less than $200,000 to New York Republicans–a contradiction that Mr. Trump will have to address if he actually hopes to convince Republican primary voters that he's one of them.
But in New York, some are defending Mr. Trump's pragmatic donor philosophy. "There's nothing wrong with that," said Carl Paladino, the Buffalo real estate developer and last year's Republican gubernatorial nominee, who like Mr. Trump was criticized for contributing to Democrats like Hillary Clinton and Chuck Schumer, who are generally considered anathema to most die-hard Republicans. "I have to agree with him on that. You give money to people who are going to go out there and do that job," said Mr. Paladino. "Republican, Democrat–it doesn't matter. I had them throwing that at me, too; same crap." Mr. Paladino easily won the G.O.P. nomination despite these and other controversies.
"You can accuse me of the same thing. I'm a New York businessman," said John Catsimatidis, the billionaire supermarket magnate who donated heavily to Bill and Hillary Clinton, as well as to Republicans. "I support both sides, too. So, am I a Democrat? Am I a Republican? I'm the same businessman Donald Trump is."
(Mr. Catsimatidis is also embracing Mr. Trump's other policies, including expressing skepticism over President Obama's citizenship. "I probably believe that he is a citizen," Mr. Catsimatidis said, but he speculated there is "probably something on the birth certificate he doesn't want people to know about … Maybe the birth certificate says he's a Muslim and he doesn't want people to know about it.")
In the 2006 AG's race, Mr. Trump donated $20,000 to the coffers of Republican Jeanine Pirro, a few months before he started giving to Andrew Cuomo, who went on to win, with a little more than $20,000 in Mr. Trump's cash.
In March of 2008, with control of the State Senate suddenly up for grabs, Mr. Trump gave $50,000 to the Senate Republican Campaign Committee, which was trying desperately to retain a thin majority. But, a few months later, he also gave $55,000 to the State Democratic Committee, whose party still controlled the Assembly and the governor's mansion.
Throughout 2009, even after officially registering as a Republican, Mr. Trump kept giving to Mr. Cuomo's ostensible reelection bid, while also sprinkling money on David Paterson's gubernatorial campaign–with a $5,000 donation in January of 2010, just before the governor's prospects finally imploded. (After that, it was all Cuomo.)
A top adviser to Mr. Trump, Michael Cohen, referred questions to Mr. Trump's main office. A message left there was not returned.
One Democrat who received a donation from Mr. Trump–Democratic Brooklyn Borough President Marty Markowitz–said he recalled facing off against the young real estate tycoon when he was managing his father's property's in southern Brooklyn.
"His father wouldn't meet with us," said Mr. Markowitz–then an organizer with the Flatbush Tenants Council. He said he met the younger Trump only a handful of times, but recalled, "He was charming and tough-assed."
But even those who share common ground with Mr. Trump question his electability, particularly when much of his public persona consists of relieving people of their employment on national television in the midst of a recession. "Anyone who has that smirk on their face when they fire people on TV," said Mr. Paladino of his fellow real estate developer-turned-Tea Party stalwart, "I think that leaves a lasting impression on people."
apaybarah@observer.com