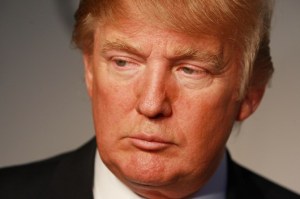 Our politics desk is putting together a piece for tomorrow's paper on Donald Trump, the presumptive presidential candidate. But what about Mr. Trump, the real estate tycoon? Or, more to the point, what about Mr. Trump, the local real estate tycoon?
He's always kind of been of New York, but not so much in it, the various Trump developments about town notwithstanding. Case in point: Mr. Trump nor his eponymous organization are members of the Real Estate Board of New York, the uber-powerful trade group that claims just about every big name in the business on its membership roster.
"Donald is obviously a very successful real estate and businessman," Steven Spinola, REBNY's president the last 25 years, told our Azi Paybarah this week. "That's all I can say."
Anything to read into the fact that he's not a REBNY member?
"Nothing to read into it," Mr. Spinola said. "When I asked him about it once, he said, 'I'm not a joiner.' [laughs] You know, so we've talked from time to time–when there's a need to talk to him or there's a need for him to talk to me or REBNY–and he is one of my members' colleagues in terms of the people that build this city, and they look at him as a colleague."
tacitelli@observer.com :: @tacitelli