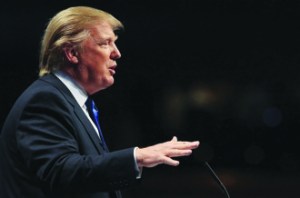 Yesterday, Azi and I wrote about the early days of Donald Trump's quasi-campaign, which so far consists of a few Trump disciples, a slew of unpaid political hands, and, of course, the outlandish operative Roger Stone–all of whom are trying to nudge the would-be developer to take the leap from p.r. circus to declared candidate.
In a 20-minute phone interview, Trump talked about the Tea Party, his experience with polling science, and whether he really, actually, could win over social conservatives. Note: Trump is the father in-law of the Observer's publisher, Jared Kushner.
Trump disputed the notion that he lacks the experience to be president, telling The Observer earlier this week that, "I have been in politics all my life. All you have to do is read your paper. I've been supporting people all my life, I've been dealing with foreign countries for the last 20 years."
(Trump was either referring to an article last week on his bipartisan political donations, or perhaps, the fact he was a favorite subject of this newspaper 1980's and 1990's.)
"I've been supporting politicians from the time I came out of the Wharton School of Finance and even before that," Mr. Trump continued. "So I know everybody. It's not like I am not experienced in this. I am probably more experienced in politics then most politicians. And some people understand that. I was actually called by a big senator yesterday and he was laughing because some writer said, 'Oh Trump doesn't have experience in politics' and he said, 'You are more experienced than we are.' And I agree with him."
Mr. Trump expressed surprise about what a phenomenon his campaign had become, and said that he couldn't understand why people are dismissing him.
"I didn't understand why they were dismissing it because I'm one of the highest paid speakers in the world. I have a show that is one of the most successful shows on television and the number one show on NBC," he said. "And I've made billions of dollars and put tens of thousands of people to work, and I didn't understand how did they dismiss somebody like that. Never made sense to me. Now they are starting to say, 'Oh I guess we shouldn't have.'"
Mr. Trump said he was quite proud of the poll numbers that give him an early edge over what most observers consider a lackluster field.
"You know the polls are showing me something very special," he said. "I believe in polls. I studied polls a little bit at the Wharton School of Finance, meaning I took a semester of polling. And it's a pretty great science. Every poll has me leading or tied to for lead. That is very much an honor
Mr. Trump still has a long and checkered history that could drag down any presidential campaign, including multiple marriages and bankruptices.
"They played a much bigger role ten years ago then they do now," he said of social issues generally. "Now I think they really want somebody who is super competent, that is a great businessperson, that knows what is going on."
His would-be advisers hope that voters will forgive him since he does not hail from the political class. Mr. Trump disputed the notion however that he has been given a longer leash by political observers because he is real estate entrepreneur and reality TV television star.
"The establishment hates the fact that I am leading in the polls," he said. "The establishment doesn't understand how a non-politician could be winning. The writers have become friends with all of these politicians over the years. They know them, they dine with them, they develop friendships with them over the years, which is typical and now all of a sudden a party comes in who is leading everything and they don't know him and they don't really, you know, I think they are tougher on me then they are on everybody else."
He said that he is was polling as poorly as some of his rivals for the nomination, he would have second thoughts about running.
"When you see you are leading every poll those results are very gratifying to be honest with you. Lets say I'm doing everything I am doing now and I was [names a presidential contender] who had zero. Zero. Or [names another] who had two, who was at two points instead of 26 points. I'd say well I guess it's not working and I wouldn't be wasting much time," he said.
The names were off the record. "I've got enough enemies," he said.