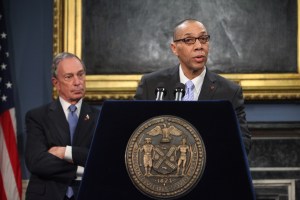 State education commissioner David Steiner has granted Dennis Walcott the waiver that he needed to officially assume the post of New York City schools chancellor.
The waiver allows Walcott to take the job despite the fact that he is not a licensed superintendant. Cathie Black received the same waiver before she stepped up to the post, but unlike Black, Walcott has had extensive experience in the field of education, serving as Mayor Bloomberg's top deputy on the matter for the past nine years.
"Although Mr. Walcott has not completed all the education and experience requirements for a school district leader certificate," Steiner wrote in his decision, "I find that Mr. Walcott's exceptional record of successfully leading complex organizations, his deep knowledge of the New York City School District and the issues and challenges it faces and the leadership qualities he manifests, warrant certification for service in the New York City School District."
Of course, Steiner came to a similar conclusion about Black back in November, writing that her background and experience were "substantially equivalent to the certification requirements set forth in law."
Bloomberg has chimed in on the topic: "Dennis Walcott has been working his entire life to help New York City's school children," he said. "I am confident that experience will help him build on the successful reform efforts of the past nine years and improve our classrooms for the generations to come."
Walcott will be picking up where Black left off-which, for some lawmakers, isn't a point in his favor-beginning as early as Monday.