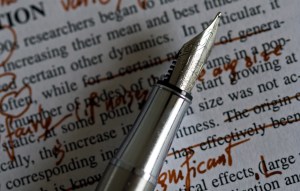 Remember when The Washington Post published a story online with the editor's all-caps notes still in it? It was kind of embarrassing for the paper's production team but mostly just kind of voyeuristic fun for us to get a peek at someone else's editorial process?
McSweeney's Internet Tendency scribe Jack Loftus has taken it to the next level. He's applied the editorial meta-narrative to the genre of online dating profiles. The piece is titled "THE WASHINGTON POST INADVERTENTLY PUBLISHES MY ONLINE DATING PROFILE WITH THE EDITOR'S NOTES STILL INCLUDED."
It will sound very familiar to any writer whose editor has a permanent seat inside their brain.
What are you really good at?

I really like to cook and THIS PART NEEDS TO BE UNIQUE BECAUSE AT THIS POINT SHE BEGINS PICTURING HOW YOU FIT INTO HER EMPTY, DEPRESSING LIFE play soccer in the local city league. NO. REVISE. SOCCER IS FAR TOO FOREIGN. TRY BASEBALL OR ANOTHER SPORT WITH LONGER SHORTS.

I've written the occasional humor essay that I submit THIS IS BETTER BUT STILL ZZZZZ to various sites for publication. I've been known to AND I'VE BEEN KNOWN TO SHIT ALL OVER SNOOZEFESTS WITH BOLD CAPS LOCK NOTES. YOU NEED TO BE FORCEFUL AND ADVENTUROUS. TRY SAYING SOMETHING LIKE: "I MOUNTAIN CLIMB AND LOVE TO ZIP-LINE ACROSS VAST CREVASSES WITHOUT A HARNESS." SOMETHING DANGEROUS. DANGER IS SYNONYMOUS WITH SEX go on long meandering bike rides through the New England countryside from time to time. I like to be active.

SORRY, "BIKE RIDES" WASN'T IT. DO YOU WANT TO MEET THE MARGINALLY ADEQUATE GIRL OF YOUR DREAMS OR WHAT? EDIT THIS.
kstoeffel@observer.com :: @kstoeffel