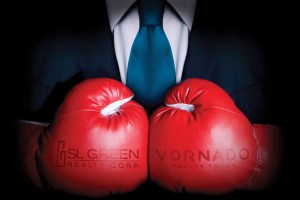 From his perch onstage at the Pierre Hotel last Thursday, Bill Ackman looked down his nose on REITs.
"You can make more money on a single real estate deal than as a REIT," he said at the 16th annual REIT symposium hosted by the N.Y.U. Schack Institute. Mr. Ackman, who made at least some of his many millions by buying stock in General Growth, a once-bankrupt REIT, made an exception for good pal Steven Roth: "Vornado," he said, "is the only REIT that's opportunistic."
In fact, while SL Green, led by Marc Holliday, has been amassing a solid portfolio of Class B assets in New York City, and Boston Properties, led by Mort Zuckerman, has bought up a handful of marquee assets, Vornado Realty Trust, led by Mr. Roth, its chairman, has pursued an enigmatic yet aggressive strategy that has quietly allowed it to become the most widely spread REIT in town.
Vornado now owns or has a stake in 95 properties in New York City, according to data obtained by The Commercial Observer from CoStar. In comparison, SL Green owns or has a stake in 61 properties around the city, and Boston Properties trails distantly at 14.
Mr. Roth almost never gives media interviews and is said to turn in the other direction if he sees a reporter coming, so what we know of his strategy for taking over New York, New Jersey and a small slice of D.C. comes from public appearances and the statements therein, such as one he gave at the Pierre on Thursday. Mr. Roth, with a football coach's build and brusque tones, is, well, bullish. "I've fallen in love with a graph."
"Try a woman," Equity Group Investments' Sam Zell cackled.
But Mr. Roth plunged ahead. The graph, he explained, shows the rental market in New York going back 25 years. Following every recession, office rents have come back at three times the rate of decline. "I keep it under by pillow," he added. "My office buildings are going up in value."
Mr. Roth painted his strategy as simple and low-risk: Just focus on New York City. But Vornado is playing a more high-stakes game than he let on.
Vornado recently took a 25 percent stake in special servicer LNR Property Corporation, suggesting it plans to become a bigger player in the distressed-assets market. For years, Vornado has owned a substantial stake in McDonald's but has since sworn off similar investments. Still, in Vornado's largest acquisition since 2007, the REIT last year bought a $600 million stake in J.C. Penney. (And, coincidentally, its latest flag-planting came in a joint venture with SL Green to recapitalize 280 Park Avenue in exchange for a stake in the building.)
VORNADO has come a long way since 2007, when it lost out to Blackstone in a bidding war over Mr. Zell's Equity Office Properties. "They didn't have the luxury as a public company of being able to lever up as much as the non-public companies," Larry Longua, the director of the REIT Center at the Schack Institute, told The Commercial Observer.
But suppose, for example, the commercial real estate market turns and Vornado's stock drops dramatically after it's broken ground on what is supposed to be the city's third-tallest tower, 15 Penn Plaza? "That's a big risk and a concern for me that [REITs] are in development," Mr. Longua said. "REITs really did not want to be seen as just baby-sitting an existing portfolio. It became harder and harder for them to create value."
In 2010, Vornado more than doubled its funds from operations to $1.1 billion, or $6.05 per share, compared to the $583.6 million, or $3.36 per share, in 2009. But for the firm, as with all REITs, the question is how to prolong success once equity becomes easier for private investors to come by. Longer term, the larger question is whether real estate is growing enough to support the ravenous appetite of the public markets for growth. As Mr. Zell asked at the Pierre: "How much real estate does this country really need?"
Mr. Roth frowned, but did not disagree. "The country has $14 trillion of debt," he said. "Japan has been in a funk for 20 years."
lkusisto@observer.com