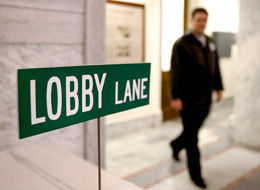 Cue up "We're In The Money."
A new report out today from the Center on Public Integrity confirms what we all knew: Albany is awash in lobbyist cash.
Says CPI:
In 2010, $213.4 million was spent, up from $197.8 million the previous year. One of the largest increases came in the area of advertising. Clients reported spending $29,804,878 for advertising in 2010, compared to $6,167,701 in 2009.

There were 6,659 lobbyists representing 4,091 clients, compared to 5,887 lobbyists in 2009 representing 3,499 clients.
The firm of Wilson, Elser, Moskowitz, Edelman & Dicker, LLP led all comers in the influence game, raking in $10.6 million last year. Patricia Lynch Associates followed with $8.1 million.
The report comes out just as Andrew Cuomo is preparing to make ethics reform a centerpiece of his post-budget year.