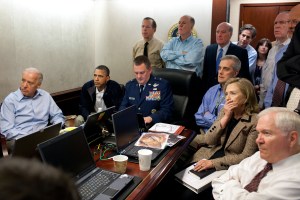 Hallmark cards, overpriced roses liberally filled with baby's breath, religious Muslim leaders getting pulled off of commercial airliners … it was a great week for moms, not so much for imams.
A troubling event that took place just hours before the annual feast of 1-800-FLOWERS suggests not only that Osama bin Laden's death has failed to put an end to Americans' terrorism fears, but that Barack Obama's presidency has not, in fact, obliterated racism and prejudice. Who knew?
On Friday, two men in traditional Muslim dress were removed from Atlantic Southeast Airlines flight 5452, which was boarding in Memphis, Tennessee, en route to Charlotte, North Carolina, because the passengers felt "uncomfortable." (In coach? Impossible!) The men in question, who had been screened–intimately, we assume, as is standard practice these days–by TSA agents, were traveling to a conference on prejudice against Muslims. The irony was not lost on the victims, one of whom compared himself to Rosa Parks, but the real irony is that Americans have no one to fear but Americans themselves. Case in point: Sunday, on a Continental flight from Houston to Chicago, passengers subdued a man who attempted to claw his way out of an emergency exit door midflight. And a Delta flight out of Detroit was rerouted to Albuquerque after a note with the word "bomb" was found in the bathroom. Those extra carry-on baggage fees are making people crazier than you'd think.
New York was not without its own transit woes this week–first, a PATH train "bumped into a wall" in Hoboken, injuring 45 riders, and then, over the weekend, a man walked along the PATH tracks from the World Trade Center to Jersey City because, he claimed, the train never arrived.
Also MIA this week (although not, presumably, hiding out under the Hudson) were Mitt Romney, Donald Trump and Newt Gingrich–from the first Republican primary debate, held in South Carolina on Thursday. Among the debators were Tim Pawlenty, Ron Paul, Gary Johnson, Rick Santorum and a charismatic black Tea Partier named Herman Cain, who has a trustworthy name if we've ever heard one (free campaign slogan idea: Cain Is Able!) Openly gay former Reagan aide Fred Karger was barred from participating because he failed to hit the required support threshold, but the debate still had a few lively moments, most notably when Mr. Paul asked the audience if they wanted to buy some heroin. No one took him up on it, which suggests that there were no Park Slopers in attendance. (See page 20 for an explication.)
Hillary Clinton was missing–literally erased, in fact–from a White House Situation Room photo by Brooklyn-based Hasidic newspaper Der Zeitung. Ms. Clinton and counterterrorism adviser Audrey Tomaso–the only two women in the image–were removed because the paper refuses to run anything that's "sexually suggestive." (Ms. Clinton was not only wearing a conservative suit but was actually covering her mouth with her hand.) Luckily Aaron Schock didn't appear topless in the Situation Room, as he did on the June cover of Men's Health. And as Dave Zinczenko knows, nothing says "I love you, mom" like an exposed navel. And it's cheaper than Harry & David's trumped-up gardenias. We'll have to remember that next year.