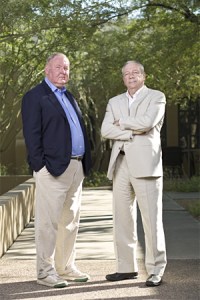 The New York Observer's headline rather captured the quaint battiness of Kat Stoeffel's media column: "Village Voice Media Getting Down and Dirty with Escort Ads."
Getting down?
Really?
Stoeffel is the overly powdered aunt that haunts family holidays. At dinner, she's left her teeth in a glass of water on the bedside table. She'd like to chew your goose. But she's left to gum your bird while forgetting the grandkid's names.
Because she is neither competent nor engaging she should not be allowed to discuss religion or politics, let alone sex and journalism.
And yet there she is breathlessly discovering adult classified ads online at Backpage.com, a division of Village Voice Media.
Then, in full crank dither, she goes on to suggest that we have abandoned editorial content. Put her in a nursing home.
The Village Voice carried adult advertising for decades before the Internet; the web, Craigslist, and Backpage have merely caught up with America's original alternative newspaper.
Stoeffel claims that once Craigslist caved to political pressure and killed its adult category in the Fall of 2010 during a notorious Congressional hearing, somehow Backpage was the only one left "willing to host the paid escort and body rub ads…"
Her dubious and fusty perspective ignores the fact that countless adult ads populate the web. In fact, thousands of adult ads merely changed categories within Craigslist itself.
Adult content is routinely found on Facebook, the Yellow Pages, cityvibe, eros.com, escorts.com, theeroticreview.com, myprovider.com, Google, Twitter, YouTube, and at least two dozen other well known, if not personally patronized, locations.
Moms Stoeffel then summons a twit-wit, Trench Reynolds, an authority of such gravitas that he is an anonymous blogger. He alleges that in the wide open, Wild West world of the Internet, he is of the firm opinion that Backpage.com's adult classifieds are not monitored.
"Backpage says they review but they haven't to my knowledge…" (anonymous [Trench Reynolds])
In fact, in just the past few months Backpage.com has spent millions of dollars policing content to attempt, for example, to keep underage kids out of adult listings. Despite Trench's professed lack of knowledge, which we do not doubt for a second, anyone looking at Backpage will notice the absence of nudity-merely one of thousands of changes over the past year.
While we get Trench's density, Stoeffel, or anyone else, can find clearly stated rules when they log on.
Having harrumphed her way through adult ads, Stoeffel then turns to a legal case that had nothing to do with classified ads but signaled the ad hominem nature of her attack on all things Voice.
She "reports" on a court case and gets pretty much every fact wrong.
After a long, tough case, we lost a lawsuit filed by the San Francisco Bay Guardian.
Contrary to Stoeffel's assertion, Village Voice Media did not claim it could not pay the judgment; the award was not against VVM but rather against a single paper, the SF Weekly. Court transcripts do not say that I, Michael Lacey, "manipulated ad prices." I am the organization's Executive Editor and have no say in ad prices. Fired former employees claimed that they inferred that I wanted to put an end to competition. One witness admitted that she might have dreamed this.
Although, for the record, I was clear in statements that I wanted to kick the competition's butt. (Can I say "butt," Ms. Stoeffel?)
Having masticated without properly digesting the court record, the peptic Stoeffel then fixes her rheumy gaze upon me and my record as an editor.
"…Village Voice CEO Mike Lacey employed a simple often devastating strategy…cut editorial costs (lay off critics, reporters, and reportedly, entire fact checking departments) pump the paper full of nationally syndicated content and splash an occasional local investigative piece on the cover…"
My…what big teeth you have!
To begin, I am not now, nor have I ever been, "CEO."
I am the organization's Executive Editor. This is not mere corporate-speak; it is the difference between lightning and a lightning bug.
For 22 years, beginning in 1983, my partner, Jim Larkin, and I bought and sold, but mostly bought, nearly a dozen publications. In each and every single instance, we invested millions of dollars in writers and editors. To say otherwise is worse than mere distortion.
That changed in 2005 when we merged with the five papers in the Village Voice group, and it changed because of the Voice's perilous economic circumstance. The Voice saw its cash cow-rental classified ads-devoured by Craigslist. And expenses were not merely out of control, they were vivid.
We found a Voice "library" where an individual sat with scissors and clipped out articles from other publications for filing. The age of the Internet stopped at the library's doors. Town cars arrived to ferry one late working chap to Westchester County. While we kept critics at Cannes, Toronto, and Sundance, we equivocated on sending them to Rotterdam. The Voice was the only alternative newspaper in the country that thought its reporters needed to have their facts checked in addition to being edited, copyedited, and proofread. I disagreed. (Though I do not wish to presume that the Observer might not benefit from such staffing.) We found nearly 30 unpaid interns who received neither cash nor school credit whose duties included opening the mail for staffers too busy to come into the office. The indentured servitude was not only ironic, it was illegal.
We also found a more than a small number of excellent journalists.
Before we finished sizing each other up, an enduring recession struck.
Since your gossip appears Voice-centric, let's set the table: many of the weekly's old school bylines are no longer with us (neither are they with the Observer.)
The Sun continues to come up in the East. The paper's readership is more robust than ever.
That said, Ms. Stoeffel, you did something fundamentally dishonest, which is worse than not getting your facts straight.
You wrote of New Media Director Bill Jensen: "He added that the complaint that editorial budget cuts have turned alt-weeklies into empty advertising vehicles is beside the point because 'the ad is content.'"
This was a construction of your own lurid imagination. You never discussed editorial budgets with Bill Jensen, nor would he have discussed them with you since he has nothing to do with editorial content. (On-line guru Jensen has grown VVM pageviews to 700 million in 2010 and nearly tripled uniques to 13 million.)
You slimed Jensen by taking a random comment of his and stapling it to your point that we so devalued writers that we actually spoke pagan.
People read ads, so of course ads are content, but they are no substitute for the kind of criticism and reporting that we have published since 1970.
In four of the last five years, the Pulitzers have recognized work by our writers, including the Voice's wonderful Michael Feingold, who was named a finalist last year. In the IRE competition for investigative reporting, we have three of this year's four finalists for weekly publications, including the Voice's Graham Rayman for his disturbing series on New York cops.
Nor are these accomplishments a new thing.
The Livingston Awards recognize America's best writers under the age of 35. Since 1998, our writers have been finalists 32 times, more than any other organization in journalism (the Washington Post is next in line with 23). This year we have three finalists: Sarah Fenske, Peter Jamison, and Kristen Hinman.
The next time you come to the table, Ms. Stoeffel, please bring your teeth. Or your manners.
Michael Lacey
Executive Editor
Village Voice Media