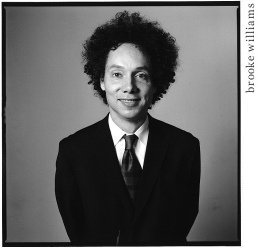 Nicholson Baker is best known for his imaginatively erotic novels, like The Fermata, in which the hero stops time to undress and admire women, and Vox, the phone-sex love story that Monica Lewinsky supposedly gave to Bill Clinton as a gift. His latest, House of Holes, due out Aug. 9 from Simon & Schuster (a tome one major editor was rumored to have characterized as "the book you read with one hand"), is arguably his most inventive. Especially regarding euphemisms for the male genitalia.
The book's hero, Dave, is a resident of the lusty alternate universe known as the House of Holes, a kind of sex tourism Hogwarts. At one point, Dave invites a woman to watch a dirty movie in the campus's 12-projection theater, the "Porndecahedron." Before long, Mr. Baker writes, "Dave angled out his Malcolm Gladwell."
He continues: "'Ooh, you've got it out again,' she said. 'Can I hold it for a second, just the head of it? Oof.'" Blink, indeed.
The Transom was unable to reach Mr. Gladwell or Mr. Baker for comment. However, the book carries a disclaimer promising that "any resemblance to actual events or locales or persons, living or dead, is entirely coincidental."