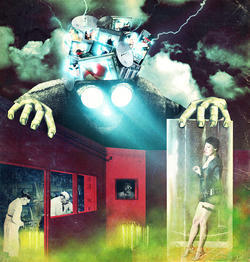 Village Voice Media executive editor Michael Lacey had some words for me regarding a piece I wrote, "Village Voice Media Getting Down and Dirty with Escort Ads." When he wasn't describing me as someone's senile, toothless auntie, he made some criticism that merits clarification.
He writes:
"Her dubious and fusty perspective ignores the fact that countless adult ads populate the web. In fact, thousands of adult ads merely changed categories within Craigslist itself." […]
According to the AIM Group, a consulting group specializing in classfieds, Backpage.com is the only general online classifieds site left which knowingly hosts paid escort ads. Backpage.com has a degree of magnitude more traffic and significantly more ad volume than escort-specific competitors like Redbook, Eros, and CityVibe. In addition, Backpage.com is the only such site owned by a media company which has aggressively defended it on the front pages of a dozen of its newspapers. That's a decision that would presumably fall to Mr. Lacey in his role as executive editor.
Next:
"Moms Stoeffel then summons a twit-wit, Trench Reynolds, an authority of such gravitas that he is an anonymous blogger. He alleges that in the wide open, Wild West world of the Internet, he is of the firm opinion that Backpage.com's adult classifieds are not monitored. In fact, in just the past few months Backpage.com has spent millions of dollars policing content to attempt, for example, to keep underage kids out of adult listings.

Despite Trench's professed lack of knowledge, which we do not doubt for a second, anyone looking at Backpage will notice the absence of nudity-merely one of thousands of changes over the past year."
Monitoring photos for nudity protects Backpage from lawsuits like this one (although the Communications Decency Act does too). Unfortunately, it does nothing to protect young women who are trafficked over Backpage because, as the Village Voice writes, "anyone who has tried online dating understands the inherent trouble with trusting photographs." The millions of dollars VVM has spent to police the site do not appear to have been sufficient, given the ongoing parade of stories of abuse and trafficking. Like this one today.
It bears mentioning that both the AIM Group and Mr. Reynolds were sources for a 2009 Village Voice story about Craigslist.
Mr. Lacey also notes:
Contrary to Stoeffel's assertion, Village Voice Media did not claim it could not pay the judgment; the award was not against VVM but rather against a single paper, the SF Weekly. Court transcripts do not say that I, Michael Lacey, "manipulated ad prices." I am the organization's Executive Editor and have no say in ad prices. Fired former employees claimed that they inferred that I wanted to put an end to competition. One witness admitted that she might have dreamed this.
Lawyers for VVM reportedly said that the cut of SF Weekly's ad revenue awarded Bay-Guardian violated the terms of their loan with Bank of Montreal, which was in default, and that all of their holdings outside California were off the table in the suit (although it was presumably those funds that allowed SF weekly to price cut their advertisements). Naturally, I did not write that Mr. Lacey personally manipulated ad prices. It has been reported that Mr. Lacey articulated the intention: "People who were at the meeting recall Lacey saying, 'We don't want to just compete with the Bay Guardian; we want to put the Bay Guardian out of business' and 'We want to be the only game in town' and 'We're going to bury the Guardian.' Also remembered by someone at the meeting: Lacey pointing out that his company had 'deep pockets,'" The Stranger's Eli Sanders wrote. The California courts agreed that, whether directed by the executive editor, the CEO, or someone else entirely, the newspaper's business practices amounted to predatory pricing.
Mr. Lacey continues:
You wrote of New Media Director Bill Jensen: "He added that the complaint that editorial budget cuts have turned alt-weeklies into empty advertising vehicles is beside the point because 'the ad is content.'"

This was a construction of your own lurid imagination. You never discussed editorial budgets with Bill Jensen, nor would he have discussed them with you since he has nothing to do with editorial content. (On-line guru Jensen has grown VVM page views to 700 million in 2010 and nearly tripled uniques to 13 million.)

You slimed Jensen by taking a random comment of his and stapling it to your point that we so devalued writers that we actually spoke pagan.
In fact, Mr. Jensen did discuss editorial budgets with me–for example, with regard to the Naked City blogs. And as presented in my story, his quote, "The ad is content," was clearly aimed at demonstrating a strength of the Village Voice's business model: local advertisements brings readers to the paper even when edit pages fall, as they have at so many weekly papers.
Claiming I used that quote, and the information about the case in California, in an ad hominem manner allows Mr. Lacey to launch into an ode to Village Voice Media's journalistic integrity, which misses the point: Though already millions of dollars in debt, VVM practiced business in a way which left it owing millions more in legal fees and settlements. Revenue from escort ads on Backpage.com has been a crucial boost to the bottom line. It is a tragic reality that in addition to consensual encounters, such sites facilitate child prostitution and human trafficking. Smearing one non-profit's attempt to illuminate that fact on the front page of a dozen papers threatens to undermine the Voice's "core product" of investigative journalism.
kstoeffel@observer.com :: @kstoeffel