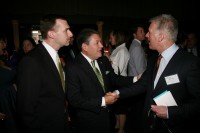 Here's Republican State Senator Jim Alesi (center) — a crucial vote on same-sex marriage — attending the gala in Rochester hosted by the Empire State Pride Agenda. He's shaking hands with Mark Siwiec, a real estate broker and Democratic donor who is openly gay. On Alesi's left is ESPA executive director Ross Levi.
Alesi's attendance at the event was cheered by marriage advocates who hoped it meant the Republican would vote in favor of the bill, should it come up for a vote.
After the event, Alesi downplayed the notion, saying he was only visiting constituents.
If you have other pictures form the event, send them along.