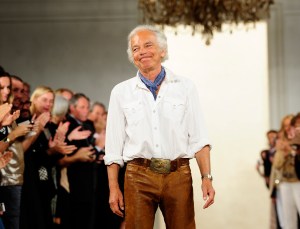 We had a beautiful event last weekend for Todd Eberle, the photographer, celebrating his new book, Empire of Space–which features the Four Seasons 50th anniversary portrait Mr. Eberle took two years ago, with lots of regulars including Michael Ovitz, Peggy Siegal, Dolly Lenz, Aby Rosen, Ed Koch and, of course, me! Larry Gagosian, Vanity Fair and Dom Perignon threw a party full of very fashionable people–Jay McInerney, Martha Stewart and Helen Lee Schifter were there. Graydon Carter was supposed to host, but he never showed up! Mr. Eberle was so busy signing copies, I think he was here until midnight even though the party ended at eight. Everyone was drinking Dom Perignon, of course, and Mr. Eberle never took off his hat.
This week, lunch at the Grill was totally booked, except for Friday when everyone disappeared for the long weekend. Pete Peterson was here only one day–he must have been too busy talking about the deficit! I'm surprised we're so busy for the time of year, but all of our events have sold out, too. On Thursday we held a private tasting for Brunello di Montalcino by Mastrojanni, a delicious Italian red wine. We had a lovely time–too much of a good time, with all that wine!
Ralph Lauren was here on Wednesday. So was Ms. Stewart and the actor Chris O'Donnell. Geraldo Rivera, who did his last wedding with us, also came in for lunch, and on his way out, he hugged Bill O'Shaughnessy, who was looking very charming as usual (but still no haircut!). On Thursday Tory Burch was here with a guest I didn't recognize, who was very stylish, of course.
We hosted a breakfast for Henry Kissinger, where he spoke at length about China and his new book. It was fabulous–the most well-attended breakfast in Four Seasons history. It shows that Mr. Kissinger is still in charge. Mr. Obama, you should listen to him!
Over the weekend, MasterChef Australia filmed at the Four Seasons, and I was one of the judges along with Paul Liebrandt and David Chang (Wylie Dufresne was supposed to come but he got sick!) We didn't even start filming until eleven o'clock at night, and were there until six a.m. but it was a lot of fun. The people who won made a chocolate gold cake.
I also got outside the restaurant this week–can you believe it? On Tuesday night someone invited me to Elaine's, two days before it closed. We drank bottles of 1996 Cheval Blanc that were outrageously inexpensive, and there were so many people I knew that I started to go around taking their orders–I was playing the maitre'd, and everyone thought I worked there! The best part about the night was the food. The last time I was at Elaine's was ten years ago, but the food was excellent. I had a steak that's as good as the one we serve in the Grill (don't tell anyone). I'm sad Elaine's closed–it's the end of an era. But at least I got to be there.
editorial@observer.com