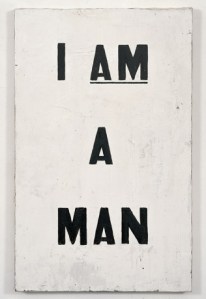 I happened to visit Glenn Ligon's midcareer retrospective exhibition at the Whitney Museum, provocatively titled "America," the day Barack Obama released the long form of his birth certificate to the press. It was a fitting coincidence. The president and the artist, both black and (indisputably) American, were born only a year apart–Ligon in 1960 and Obama in 1961. As children, they witnessed the struggles of the Civil Rights movement, and both have addressed the experience of black Americans in their work. The first thing you see at Ligon's show is a wall-sized silkscreen of a crowd's hands–some clenched into fists–raised to the night sky. Hands (1996) is unmistakably a protest image (in this case from the Million Man March of 1995), and it exemplifies the monochromatic formal beauty and unique brand of pluralism that are the hallmarks of Ligon at his best.
The setting of "America" is appropriate, as Ligon, now fifty years old, came of age in the Whitney Museum of American art. Born in the Bronx, he was trained as an artist at the Whitney's theory-driven Independent Study Program, and was a star of the 1991 and "identity-politics" 1993 Whitney Biennials (surveys of new American art).
The chronological survey begins with small, relatively unassured abstract paintings from the 80s that feature grey-pink passages reminiscent of Philip Guston. Scratched into their surfaces is illegible hand-written text, giving the impression that Ligon was trying to inscribe personal meaning onto abstract painting. From here, Ligon moves to stenciling letters on the paintings à la Jasper Johns, and his juvenalia suddenly coalesces in the placard-size oil on enamel painting UNTITLED (I AM A MAN) (1988). The words in this affecting piece, and its scale, derive from signs carried by striking black sanitation workers in Memphis in 1968. In it, you can see the 28-year-old artist discovering that stenciled letters are more searing than cursive script, and transforming the personal and diaristic into the political and public.
This discovery would become the basis of his first mature body of work, exhibited in 1989 in Brooklyn. Smeared and impastoed oil stick, gesso and graphite stenciled text paintings made on wooden doors reproduce quotations about being black in America. Sources range from Zora Neale Hurston ("How it feels to be colored me") to Ice Cube ("Wrong Nigga to Fuck With"). Ten of these works are on view at the Whitney: in each, the text starts out fully legible, but appears increasingly blurred and darker as repetitions of the quotation progress towards the bottom of the painting. With each successive reiteration, Ligon implies, crisp declarations about race get more muddled, to the point of becoming indecipherable echoes.
One of Ligon's prints from this period is a devastating self-portrait in words: "Ran away, Glenn. Medium height, 5'8″, male. Closely cut hair, almost shaved. Mild-looking, with oval shaped, black-rimmed glasses that are somewhat conservative… Full-lipped. He's black. Very warm and sincere, mild-mannered and laughs often." This description and others–written by friends about Ligon–replicate the missing-person reports posted by slave owners, while also evoking newspaper personals ads. Combining the horror of turning a person into an possession with the pain of objectifying your self in search of love, the series reveals a nerdy, shy, smart Ligon; also, a gay Ligon. Other prints take the form of frontispieces to fictional slave narratives: "the life and uncommon sufferings of Glenn Ligon, a colored man, who at a tender age discovered his affection for the bodies of other men, and has endured scorn and tribulations ever since …"
Another room shows Ligon thinking through Robert Mapplethorpe's The Black Book (1986), an erotic series of photographs that fetishizes the black male nude. Ligon's 1991 response was Notes on the Margin of the Black Book, which put on view the Mapplethorpe photos plus a talmudic host of commentary annotating the images with quotes from critics, politicians, friends, and men at the gay bookstore where The Black Book was sold. The piece succeeds because it isn't didactic. Instead, it is a demonstration of one artist sorting out his reaction to another; Ligon lets us see himself befuddled, questioning, turned on, self-loathing, and lets you draw your own conclusions.
It's worth remembering what it was like to be gay before Google, when you had to physically find the bookstores and mix tapes that gave give you a sense of community; it was a time when the mainstream was perhaps more blatantly hegemonic than it is now and the alternatives more tantalizingly elusive. In Ligon's work, borrowing snippets of text and music and images feels more personal than the 1970s media appropriations of Sherrie Levine and Richard Prince. Ligon invokes literature's power to introduce you to new ways of understanding yourself.
Two penultimate rooms bring together text paintings made from coal dust and black paint (their glistening letters evoke Andy Warhol's diamond dust silkscreens), and silkscreens of figures like Malcolm X and Harriet Tubman on canvas and paper printed over with discordant blocks of color. The latter works also reprise Warhol, although Ligon's imagery here derives from recreations of 1960s Black Pride coloring books, which he had children at Minneapolis's Walker Arts Center color with crayon in 2000. Large, modern takes on a 1960s iconography of racial pride, these pieces are some of Ligon's best work, and it's buoying to encounter them so late in the show. A final gallery displays Ligon's most recent strong installation work: pale thin neon tubing with black paint slightly obscuring the glow spelling out words like "Negro Sunshine," and, of course, "America."
This retrospective, organized by Scott Rothkopf, could benefit from a curatorial edit. In its fear of an inch of empty white wall, it is laid out more like a magazine article than an art show. The focus is on Ligon the painter, yet his prints, public projects and photographic works are often more arresting and memorable.
Still, the show is welcome, not least because it's timely. Ligon came of age artistically in the 1990s, as part of a generation of American artists including Carrie Mae Weems and Lorna Simpson whose work dealt explicitly with race, gender and sexual identity. As art moved on from identity politics, their work of that era began to look dated. These days, however, with young artists like K8 Hardy and Rashid Johnson taking new approaches to the politics of identity, this work from the 1990s and its strategies are increasingly relevant.
More relevant than ever, in fact. The call for the President's birth certificate reminded us that there are still people for whom blackness and Americanness are incommensurate. It's a reductive and disenfranchising line of thought, the continued existence of which is an argument for ceasing to think of Ligon's identity politics art as a 1990's phenomenon and starting to think of it as deeply germane to the present moment. President Obama already has: he added Ligon's Black Like Me No. 2 (1992) to the White House collection when he took office. Whether or not you see something of yourself in Ligon, it's hard not to see something of Ligon's dilemma in our political world as you take in this thoughtful survey.
editorial@observer.com