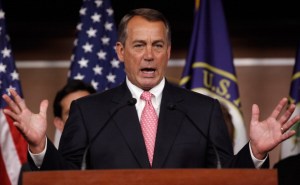 At a press conference in Washington this morning, House Speaker John Boehner downplayed the effect of Medicare on Democrats' victory in New York's 26th District and suggested the results had more to do with a third party spoiler and an imperfect campaign.
"You know, special elections are just that: they're special," Boehner said, according to the Washington Post.
"When you look at what happened in this election, you've got a third-party candidate who spent nearly three million dollars attacking the Republican candidate. I could be somewhat critical of how the campaign was run, but the fact is we didn't win it. And part of, the small part of the reason we didn't win clearly had to do with Medicare."
Boehner tried to do his part — swinging through Western New York to stump for the Republican candidate, Jane Corwin — but there was plenty to be "somewhat critical" about concerning Corwin's campaign.
She drew some skeptical press early on, after claims in her campaign bio that she had been a "successful businesswoman" for 36 years before being elected to the Assembly–which meant she started succeeding in business at the tender age of 8. That was followed by a 15-second video of a Corwin "volunteer" provoking the third party candidate, Jack Davis, into a physical altercation–a video that backfired on Corwin when it was revealed the volunteer was her Assembly chief of staff, and the campaign refused to release the full video. Late in the campaign, a local newspaper criticized a television ad that implied it had endorsed some of Corwin's policy positions.
And on Monday, the day before voters went to the polls, Corwin admitted she probably should have responded to the Medicare issue earlier–as Democrat Kathy Hochul, hammered it from the outset.
How much those missteps affected the final vote–and how much support Davis and his Tea Party line sapped from Corwin–is, of course, impossible to know. But Hochul clearly overperformed in a heavily Republican district, and Democrats are treating it like a bellwether, promising to pound the Medicare issue all the way through 2012.
Boehner has an obvious interest in portraying Medicare as a "small part," but there's also some evidence rank-and-file Republicans aren't especially scared it will sink them next November. Yesterday, only five Republican senators broke ranks to vote against Ryan's budget in a largely-symbolic Senate vote.