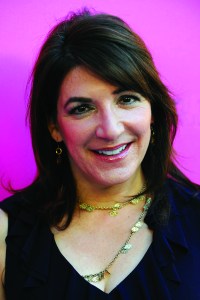 In the lobby of the Hollywood Life offices in a nondescript Midtown East office tower, a young writer in thigh-high lacy stockings, short-shorts and a black fedora importuned the receptionist for suggestions on what to eat for lunch.
"How about Mexican?" her friend offered.
"Perfect! But do you think they'd give me just the tortilla? That's all I really want."
It was agreed that the Mexican restaurant would comply. Next issue: how the writer should dye her hair.
"I have to do a celebrity hair-inspired video, so I'm thinking Blake Lively blonde!"
The office was also home to the mobile news site Boy Genius Report, the auto site Oncars, and the film site Movieline. Hollywood Lifers occupied the cubicles nearest the lobby, intently focused on their computer screens.
"Who used my curling iron?" shouted one young woman. "I just want to know!" The Observer was walked past a row of cubicles into a small conference room often used to shoot videos for the site, where we perched on a lipstick-pink director's chair. Before long, the site's editor Bonnie Fuller arrived, and perched in her own chair to talk about Hollywood Life, her most recent project, which launched in November 2009. She was dressed in a snazzy purple floral bandage dress. A glittering cuff bracelet adorned her right wrist.
"Our staff is very, very small compared to a magazine," she said. "But we aim to produce a lot of original content and break a lot of stories–and have opinions."
It's only the latest reinvention for Ms. Fuller, who in recent years went from being the well-paid evil genius of the magazine industry to its most gleefully observed cautionary tale. After first attracting attention for her stewardship of Flare, a Canadian fashion magazine, she went on to edit YM, launch the American version of Marie Claire and helm Cosmopolitan, where her numerically enhanced coverlines ("His Top 20 Sexplanations," February 1998) were legendary.
Also legendary were her high-handedness with her staff and alleged over-reliance on company black cars. A nasty 2004 Vanity Fair profile featured former employees chuckling over Ms. Fuller's gaucheness and boasting about spitting in her food.
In 1998, Ms. Fuller was brought over to Glamour, where she lasted less than three years. In a much-discussed miniscandal, she was fired for her brazen pursuit of the editorship of Harper's Bazaar, a job that eventually went to Glenda Bailey.