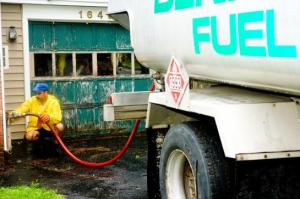 The Rent Guidelines Control Board approved its preliminary rent increases suggestions last night, proposing the highest hikes in years. One-year leases could rise 3 percent to 5.75 percent while two-year deals are staring down a jump between 6 percent and 9 percent.
But what has really inflamed tenants and even some landlords is a first-ever fuel surcharge, which would levy a 1 percent hike on rents in all buildings using heating oil. Landlords of such buildings argue that this one-time tariff–which could of course become a regular thing if approved–is needed to offset the 23 percent spike in fuel prices.
But the landlords may have only themselves to blame.
Joseph Strasburg, president of the 25,000-landlord-strong Rent Stabilization Association, tell the Post that a fuel surcharge would cause confusion, and "errors are going to be made." And then there is the matter of messing with market forces!
Tenant leaders fumed over the proposal, saying the board was rewarding landlords who hadn't made the switch to cleaner and cheaper fuels. "They're just encouraging waste," said longtime tenant spokesman Michael McKee.
Indeed, one of the marquee pieces of the Bloomberg administration's updated PlaNYC 2030 from this past Earth Day is an eventual ban on heating oil in the city's apartment buildings, which are responsible for up to 80 percent of the city's air pollution.
To interfere with the vaunted market–which rent regs opponents and the mayor are fond of worshipping–by passing on the cost of oily boilers would seem to fly in the face of the city's sustainability initiatives. Not to mention addressing perhaps the city's biggest sustainability problem–not air pollution or waste disposal but affordabile housing.
Just think, two birds with one boiler.