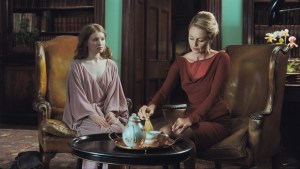 The fairer sex is getting a beat-down this year at Cannes, and the wounds are self-inflicted. More than a dozen women directors have movies playing on the Croisette–a rare surge for any festival–and the first four whose films unspooled in the opening days have delivered dark, bleak, tough struggles.
The strangest and most chilling has to be Julia Leigh's Sleeping Beauty, which was previously mentioned in this week's first Cannes blog and remains a remarkably original vision when measured against the other films in competition so far. Its images of Emily Browning's body being used and abused are legion: deep-throating a latex bladder in a lab experiment, constantly ingesting hard liquor, getting laid with listless aplomb, or letting herself be drugged for the depraved pleasures of rich old men. This is a portrait of disaffected youth that clings to its cool veneer even as a volcanic climax of pain threatens to erupt.
Less thematically effective though intermittently startling is Lynne Ramsay's We Need to Talk About Kevin, a potent but problematic drama about a grief-stricken mother wrestling with the guilt, resentment and utter trauma of raising a son who goes on a killing spree in his high school. The great Tilda Swinton is (not surprisingly) riveting as the woman who spawned the devil child, and her searing perseverance in the face of an unforgiving community as well as her own deeply troubled memories makes for a queasy portrait of self-flagellation.
The French actress Maïwenn, best known for playing a blue-skinned intergalactic opera singer in The Fifth Element, has leveraged her comely talents into filmmaking over the past decade, a career move that has landed her in Cannes' main competition with the compelling cop drama Poliss. The twist in what otherwise would be a Gallic version of CSI is
that the special forces here are all members of the Child Protection Unit, a group specializing in the prosecution of abusive parents, pedophiles and other grown-ups who routinely throw minors into harm's way. Despite the countless references to dead babies and broken children, Poliss is saved from being utterly depressing thanks to the director's punctuations of brazen revelry and punch-drunk humor – safety valves that the mostly
female cops more than deserve in the face of such jaw-dropping cruelty.
Most misleading title goes to The Slut, a stridently unerotic Israeli film written, directed and starring Hagar Ben Asher, who plays a woman raising two kids while pinballing from lover to lover to lover. When an old friend moves back into town and kindles a romance that leads to domesticity, the other men get resentful while the women takes advantage of having Mr. Mom take care of her homefront. Let's just say things don't end well when the male ego rears its head.