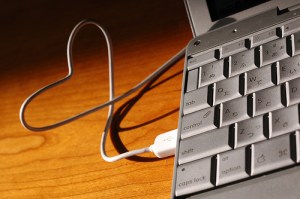 "I happen to know that all you geeks ever did when you were young was play with Microsoft Paint and play Counterstrike and that's why you're so poor at speaking to women," said Andres Campanella, a long-haired programmer with the sort of faint mustache usually associated with aspirational teenage boys. He was introducing a computerized Cyrano de Bergerac called Doach, a portmanteau of "dating" and "coach," at the TechCrunch Disrupt hackathon Sunday.
"So I built a program," he went on, "that's going to watch you go on a date and tell you how bad you're screwing it up." He advanced on the pretty girl he'd brought up on stage. "It is recommended that you move away from the subject, so as not to suggest that you are a dick," a computerized voice intoned.
The hackathon–a 24-hour computer-programming sleep-over with an overabundance of pizza, Red Bull, computers and techno (and a decided dearth of estrogen)–was full of lonely hearts who matched Mr. Campanella's description. Many of their projects had romantic themes. There was Snatch.me, a site modeled on flash-deal apps like Groupon, which showcases one male and one female per day; Cnvr.ge, which lets people text a phone number in order to create a spontaneous speed-dating event; and GoOutMania, a site for proposing dates with an emphasis on "meeting ladies," introduced by a pair of Russian hackers.
Another project allowed male Facebook users to trade introductions to their attractive female Facebook friends. "We encourage you to counter-offer, to get the blond you really deserve," the creators of "Chicks for Geeks Hot iPhone App" explained.
This prompted two female audience members to insinuate, via Twitter, that they were dicks.–Adrianne Jeffries