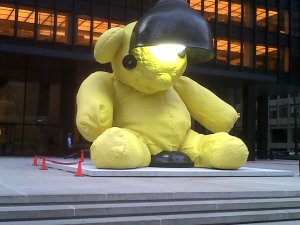 "I had no idea it was so hard to sell art," deadpanned architect Terry Riley. He was speaking to the Transom at a party promoting Christie's forthcoming auction of artist Urs Fischer's monumental, 20-ton, fluorescent-yellow bronze bear with a lamp springing out of its head, currently on display at Seagram's Plaza.
The bear, one of an edition of three in the world, is owned by the art-dealing Mugrabi family (the other two belong to billionaire Steve Cohen and The Observer's own Adam Lindemann, who recently hailed the bear as a masterpiece on Art in America's website). The Transom hears that auctioneer Phillips de Pury had previously attempted to beat Christie's to the Mugrabis's bear with a cool $10M guarantee to sell it. The Mugrabis turned it down, along with an $8M offer on the bear from an unidentified private buyer. Instead, they chose Phillips competitor Christie's–despite no such guarantee–which is putting the massive sculpture on the auction block this Wednesday. Christie's estimate? $4-6M.
What drove the decision? Placement, placement, placement, says Alberto Mugrabi. Not just for the bear's prominent five-month berth at Seagram's Plaza. Mr. Mugrabi also said Christie's will find the bear a good permanent home, which is particularly interesting given that the Mugrabis first purchased the bear from none other than Christie's owner Francois Pinault.
The Mugrabis have placed a heavy wager on a big bear, and Christie's along with it.
At the party, the Transom sidled up to Brett Gorvy, Christie's co-head of contemporary art. Where would he like to see the bear resurface? Sorry, New York: "I'd love to see a major city buy it, in Russia, or Asia, or the Middle East." —Sarah Douglas