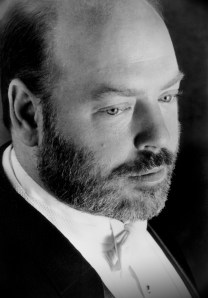 Last week the baritone Sanford Sylvan sat over coffee at the Hilton Hotel in Midtown, talking about the kind of New Yorker he used to be. It was the morning after Mr. Sylvan sang, for the first time in a decade, "The Wound-Dresser," a Walt Whitman setting that John Adams composed for him in 1989.
He was joined by the Oregon Symphony, part of the new Spring for Music festival that brought to Carnegie Hall a series of North American orchestras that had won their slots based on the quality of their proposed programs. There was a patronizing edge to some of the richly deserved praise surrounding the festival, of the "I can't believe the Albany Symphony plays so well!" variety. Mr. Sylvan, now 57, had that same perspective when he was young, but now it only amuses him: "This festival–and I grew up here, I can say this–it's like New Yorkers think there's New York and there's nothing else. There is much else."
With his warm, resonant voice and communicative authority, his grasp of early-music style and his tireless advocacy of new work, and his eloquence and generosity as a performer, Mr. Sylvan is one of the most respected artists of his generation. In addition to "The Wound-Dresser," he was also the first Chou En-lai in Mr. Adams's Nixon in China and the first Leon Klinghoffer in the composer's Death of Klinghoffer. He starred in Peter Sellars's landmark, modern-dress Mozart productions in the 1980's. He is a renowned recitalist.
But when you talk about him with people in the New York classical music industry, they often express puzzlement. Sanford Sylvan is wonderful, they say in so many words, but why hasn't he had more of a career?
By which they mean, of course, more of a career in New York. The fact is, Mr. Sylvan has appeared many times in the city. Just a few weeks before the Oregon concert, he was at Carnegie as a noble Moses in Paul Dessau's 1930s oratorio Haggadah shel Pesach, and through the 80's and 90's he was a frequent recitalist here. But recitals hardly ever get real attention, and when he wasn't singing art songs Mr. Sylvan's focus was on early music, which isn't the way to win the hearts of the New York audience.
While he has performed a few times with the New York City Opera, he's never appeared at the Met, which may be the main reason that some doubt his impact. But in "Wound-Dresser" he showed an artistry that remains special and rare: the singing elegant and clear, the emotions utterly honest and never overplayed. The piece premiered at the height of the AIDS epidemic, when Whitman's narrative of his time as a Civil War nurse was painfully vivid.
"It was terrifying and thrilling and impossible to sing it for people who knew every day of their lives what that was," Mr. Sylvan said. "I think the piece now is more about itself. I used to start well into the emotional range, but this time we started in a memory, really distant, so that the heat happens a bit later. I'm old enough now to see the ruminative nature of Whitman in the experience of John's music."
A clip of Leontyne Price singing Aida inspired the young Mr. Sylvan, who didn't grow up much of a music lover, to become a singer. When he was 13, he began studying at Juilliard Prep, the school's precollege program, and went on to the Manhattan School of Music. During summers at Tanglewood, he studied with the great soprano Phyllis Curtin, who taught him the importance of clarity and communication: "What are you saying, what are you saying, what are you saying," he remembers her asking him, over and over, as he sang.
"In those days it was heresy to leave New York City if you wanted a career," he said. "But I went to Boston in 1977 and it was the best thing I ever did. It's hard to describe what Boston was like in the 70's, 80's and 90's. There was a real relationship with the audience. People knew what I was, so we could look at something new together. At Emmanuel Church"—the home of Craig Smith's celebrated early music ensemble–"we did a cantata every week. When you look at the Figaro video, that's our church choir."
Mr. Sylvan played the title role in that Figaro, whose action Peter Sellars had moved to New York's Trump Tower. For the Cosi, set in a roadside Massachusetts diner, Mr. Sellars reimagined Don Alfonso, who guides the opera's male leads in a test of their girlfriends' fidelity, as a Vietnam veteran. The concept could have been gimmicky, but Mr. Sylvan played the character as haunted and bitter, self-pitying but with a core of warmth in his sure, steady voice.
He took breaks even from this nurturing Boston scene, appearing frequently in Europe and taking regular sabbaticals from singing. At one point, he spent a year and a half at a small farming community in Scotland; more recently, he has explored his practices of Buddhism and Judaism.
This approach to a career sounds absurd in our overscheduled era, the kind of luxury that ambitious young singers might think they can't possibly afford, but Mr. Sylvan says he has always valued the quality of his engagements more than their quantity.
"I just did what I wanted," he said. "I didn't live like a prince. To sing the St. Matthew Passion with a great conductor, that's the bottom line for me. You don't get rich singing the St. Matthew Passion, you just get happy."
He became so closely associated with Boston that the Globe's headline was "Sanford Sylvan Uproots Himself" when the singer moved to Montreal in 2007 to take a teaching position at McGill. Unlike many teachers with prominent solo careers, he has radically curtailed his schedule to concentrate on his students, doing virtually no performances in the fall. "When they're 17 or 18," he said, "you just have to be there, week in and week out."
In March one of Mr. Sylvan's students, the bass-baritone Philippe Sly, was one of the winners of the Met's National Council Auditions. And Mr. Sylvan says that teaching has improved his own singing. His career is by no means over. His voice lies a bit lower now, but is otherwise largely intact; he has no retirement plans. He still wants to get to the few works for baritone that he hasn't yet touched: Lutoslawski's "Les Espaces du Sommeil," for one, and, even more tantalizingly, the title role in Berg's Wozzeck.
That last one would be perfect for City Opera, if it ever manages to right itself financially. Until then, Mr. Sylvan is characteristically good-humored and straightforward about the idea that he's somehow ignored New York, or that New York has ignored him.
"I've sung thousands of concerts," he said simply, "and some of them have been here, and many of them haven't." All we can hope for is more.
editorial@observer.com